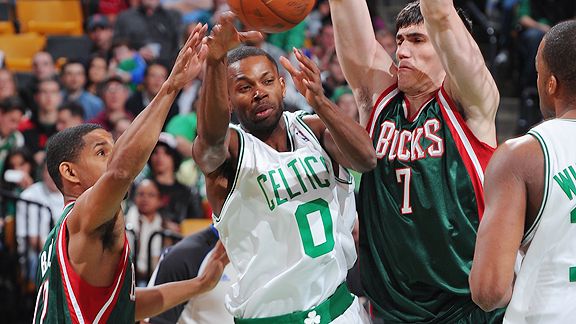 Brian Babineau/NBAE/Getty Images
Oliver Lafayette fights through traffic in his pro debut against Milwaukee.BOSTON -- A collection of postgame news and notes after the Milwaukee Bucks topped the Boston Celtics in the regular-season finale Wednesday night at the TD Garden:
The rundown (a quick look at postgame headlines)
* Lafayette makes most of opportunity
* Surgery likely for Scal, but he plays on
* Not a lot to cheer about on Fan Appreciation Night
Lafayette makes most of opportunity
The Celtics-Bucks tilt might have seemed meaningless to most, but for Oliver Lafayette, it was the opportunity of a lifetime.
Lafayette, a 6-foot-2 guard signed by the Celtics on Wednesday with eyes toward competing for a roster spot in the summer, logged nearly 22 minutes of court time, while scoring seven points on 3-of-6 shooting with four rebounds and two assists.
After two strong seasons in the NBA Development League, including a strong finish to the 2009-10 campaign with the Fort Wayne Mad Ants, Lafayette got word the Celtics might be interested. He admitted he battled nerves before Wednesday's game, but his natural ability took over on the court.
"I was just trying to play basketball," said Lafayette, a native of Baton Rouge, La., which endeared him to fellow Louisiana native Glen Davis. "I was nervous on the bench, watching the guys play. But once I was in the game, that's just basketball."
It didn't hurt that Oliver instantly opened eyes. A minute into the second quarter, he spun through the lane and dished to Shelden Williams for a baseline dunk. A few minutes later he splashed his first shot, a 21-foot jumper, and added a 6-foot runner soon after.
"It took a lot of the nerves away," Lafayette said of his quick start. "You don't have to worry, you can let the game come to you. There's a lot of great guys out there, all you have to do is get open."
Lafayette got some tutelage along the way. Nate Robinson schooled him on the art of taking a knee after the opening tip-off and staying on it until Boston produced its first bucket of the game. Ray Allen plopped down next to him on the Boston bench and dispensed knowledge throughout the game.
Surgery likely for Scal, but he plays on
According to Celtics coach Doc Rivers, forward Brian Scalabrine likely will head under the knife in the offseason to repair damage in his right shoulder, but he surprised his coach by deeming himself fit to play in Wednesday's regular-season finale.
"He's going to play and, honestly, that's a shock to me, because two days ago, he almost had surgery on the shoulder," Rivers said before the game. "He probably will have it [in the offseason], but the bottom line is he wants to play, so he's going to play."
With Boston playing with nine available bodies -- Ray Allen, Paul Pierce,and Kendrick Perkins were active but held out -- Scalabrine logged nearly 30 minutes, scoring five points and grabbing a pair of rebounds.
Scalabrine, who did not accompany the team on its recent two-game trip to Milwaukee and Chicago, had been inactive for 18 of the past 20 games, playing a total of 11 minutes in two appearances in late March. A free agent after this season, he could still end up back in Boston with the team thin on bodies, but it's hard to imagine the Celtics would be interested in spending the type of money he's making this season ($3.4 million) to keep him in green.
Not a lot to cheer about on Fan Appreciation Night
Boston benched five of its top nine players for Wednesday's regular-season finale, including the entire Big Three and starting center Kendrick Perkins, and Rivers acknowledged that there was bound to be some disappointed fans in attendance.
"I do see the other side," said Rivers. "There's going to be some fans here tonight for the first time in their lives seeing the Celtics play. Clearly they bought tickets to see the Big Three play and they're not going to see them. To me, that's not right. But on the other hand, they are Celtics fans and they probably want to see their team do the best in the playoffs, so it's a tough call.
"I do get it, but I don't know how you avoid it. As I told [reporters] the other day, I got injured in the 82nd game before the playoffs [during the 1992-93 season]. That's always on my mind. I don't know what you do. There's no way to stop teams from saying a guy is injured, unless you send doctors all over the country."
Boston utilized a starting lineup of Rajon Rondo, Michael Finley, Marquis Daniels, Glen Davis and Rasheed Wallace on Fan Appreciation Night. Locked into the fourth seed in the Eastern Conference, Rivers didn't want to risk an injury -- or a 16th and potentially suspension-inducing technical for Perkins -- and played it safe. But he stressed he did not tank Wednesday's game.
"We're not playing guys, but we're playing to win, make no mistake," said Rivers. "I'll coach like a normal game. We're playing this game to win. For some guys, this game is important. Marquis and Nate [Robinson], it's very important rhythm-wise."