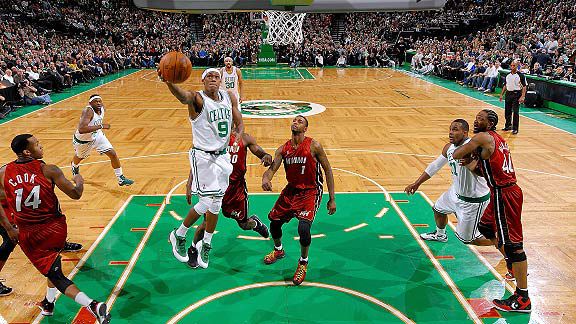 Brian Babineau/NBAE/Getty Images
The Celtics will host the Heat when the 2010 NBA playoffs start this weekend.By virtue of Miami's double-overtime triumph over New Jersey on Wednesday night, the Heat secured the No. 5 seed in the Eastern Conference playoffs and will visit the Celtics this weekend to open a best-of-seven series in the first round of the postseason.
Dates and times for the opening-round series won't be announced until all of Wednesday's action is completed and the NBA determines its broadcast schedule. With the Bruins hosting the Buffalo Sabres in the NHL playoffs Monday night, the arena is not available, making it likely that Game 2 will be played Tuesday night.
Boston posted a 3-0 mark against Miami during the 2009-10 season. Check out the box scores from those games below, or visit ESPN.com's Playoff Matchups page.
* Nov 29, 2009 - Boston 92, Miami 85
* Jan 6, 2010 - Boston 112, Miami 106
* Feb 3, 2010 - Miami 102, Boston 107