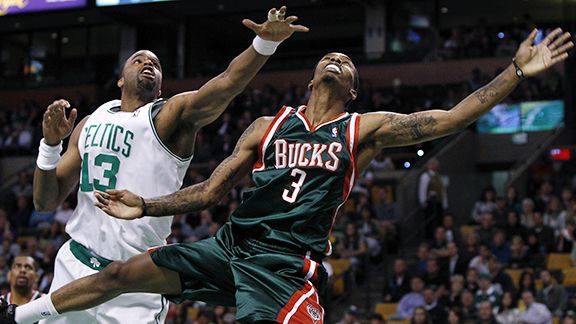 AP Photo/Elise Amendola
Finally, the postseason is here after Wednesday's regular-season finale.BOSTON -- Instant reaction after the Milwaukee Bucks posted a 106-95 triumph over the Boston Celtics in the regular-season finale Wednesday night at TD Garden:
How the game was won: Maybe it's appropriate that the Celtics closed out their regular-season home slate with a loss as they posted a dismal 24-17 record at TD Garden. Wednesday's loss to the Bucks was the least frustrating of the batch in what amounted to a junior varsity game. Jerry Stackhouse and Luke Ridnour scored 17 points apiece to pace four Milwaukee reserves in double figures. Rajon Rondo posted 21 points and 15 assists to pace Boston.
Turning point: Some would say the game was pretty much decided when Celtics coach Doc Rivers made the decision to sit four of his five starters, including the entire Big Three. Boston actually led by a point with 4:43 to play in the third quarter, but the Bucks scored 10 of the game's next 12 points, spearheaded by the reserve frontcourt of Ersan Ilyasova and Dan Gadzuric, and led by double digits by the end of the period.
Stat of the game: Marquis Daniels, whose minutes had virtually disappeared at the end of the season, logged 31 minutes in a starting role Wednesday, displaying the importance of the contest. Daniels did finish with 13 points on 6-of-9 shooting, which might help him build some confidence should he get called upon in the postseason.
Unsung hero: Oliver Lafayette, signed Wednesday after a strong season with the Fort Wayne Mad Ants of the NBA Development League, hit the first three shots of his first pro game, and finished with seven points, four rebounds and two assists over 22 minutes.
What it means: The Celtics had already secured the fourth seed in the Eastern Conference and Wednesday's finale meant nothing. Boston finished the 2009-10 season at 50-32 and, on the positive side, is headed to the postseason as healthy as it's been this season.