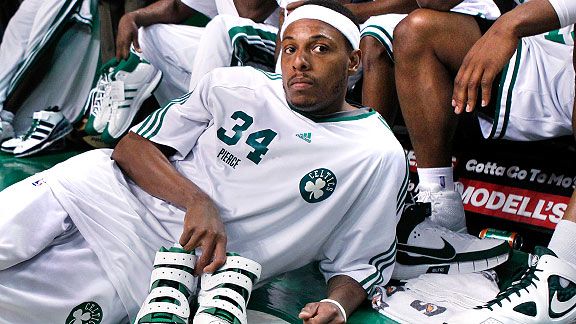 AP Photo/Elise Amendola
Paul Pierce lounges during Wednesday's regular-season finale against the Bucks.BOSTON -- As the New Jersey Nets-Miami Heat game spilled into overtime Wednesday, reporters found themselves crammed into the hallway outside the Celtics' locker room, huddled around an iPhone playing the final moments of the game, and eager to see the outcome that would dictate Boston's first-round playoff opponent.
But as Mario Chalmers dribbled down the clock, preparing to take a potential winning shot, Celtics captain Paul Pierce emerged from the trainer's room, decked out in sunglasses, and walked straight out of the building.
Pierce didn't seem to care that Chalmers' 3-point attempt was off the mark, forcing a second overtime, where the Heat (finally) prevailed 94-86 to set up an opening-round series with the Celtics.
Inside the Celtics' locker room, the Nets-Heat game also was met with indifference. Kendrick Perkins, reclining in a chair in the middle of the room, stood up at the end of the first extra session and decided it wasn't worth sticking around.
Several teammates followed suit.
Ray Allen emerged and didn't even glance at the television that reporters were circled around, still awaiting a final score.
"I know the game is on," said Allen. "At some point we'll know who we are playing. I'm not worried about it."
Allen knew the Milwaukee Bucks, the team that defeated the Celtics 106-95 Wednesday night in what amounted to a junior varsity game were across the hall watching the same game, eager to see if they'd be extending their stay in Boston.
But Allen figured it didn't matter if it was Milwaukee or Miami who would be occupying the visitor's locker room this weekend.
"It has nothing to do with those two teams," said Allen. "It's all about us."
Click HERE to read the full story.