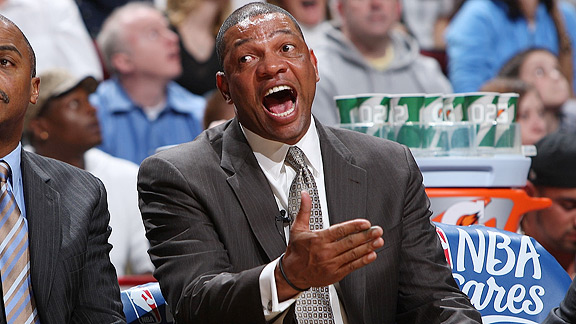 Gary Dineen/NBAE/Getty Images
Doc Rivers checked in with Mike & Mike Thursday morning.Celtics coach Doc Rivers phoned in to ESPN Radio's Mike & Mike Thursday morning to chat about a challenging season, a first-round matchup against the Heat, and his future in Boston.
A couple highlights:
* Rivers stressed that health was the most important aspect over the final weeks of a challenging regular season
"[The 2009-10 season] started out well, we started out 23-5 and everyone was healthy, but then had a slew of injuries, and really struggled getting back our rhythm while getting guys healthy," said Rivers. "It became very difficult from that point on, coaching and managing minutes. My only thought was to get to the playoffs healthy. If you can get in great position, get in, but health was more important than any of those things."
* Rivers lauded Dwyane Wade in his typical way, while previewing a first-round series with Miami.
"He's the second best player out of Marquette, we definitely know that," joked Rivers, a Marquette alumn. "It's a tough matchup. You never really want to go into a series where the best player has a chance to be on the other team, and that's Dwyane Wade. He's an MVP candidate each year and he's what makes them go. But we can't just focus on him. What Dwyane and the rest of the team have done such a good job of is using the guys around him, and that's what makes them so dangerous. We have to be ready for this series."
Listen to the interview HERE