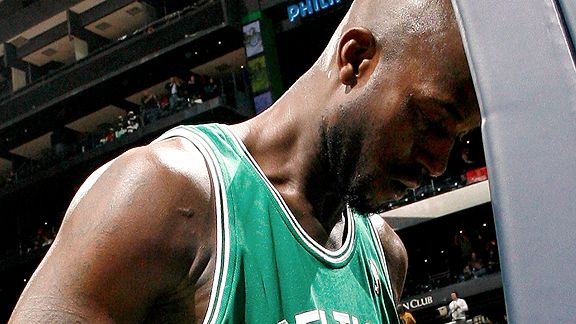 Kevin C. Cox/Getty Images
It's been a difficult year for Kevin Garnett (not to mention Celtics fans) as his role has changed.They worry in Boston about Kevin Garnett, the Celtics, and the playoffs. Should they? ESPN.com's Scoop Jackson investigates:
BOSTON -- You could hear them if you walked around the city long enough. Concerned whispers. Almost like cries for help.

Boston. Easter weekend. The Celtics had lost two games. In a row. At home.

Every win (even the moral victories) seemed to come connected to an embarrassing loss. Beat Dallas, then lose to Utah. Blow out the Nuggets, get spanked by the Thunder … and the Spurs.

Ageism -- they're too old! -- reared its ugly but suddenly plausible head in Boston. Still, the April 2 game, Good Friday, loomed against the Rockets, and surely it would be the one that pulled the city out of its season-long paranoia that the apocalypse of an NBA 401(k) plan was in full old jack swing.

They lost it.

The city has been buzzing -- and not in a good way -- about the condition of its basketball team. To the whisperers, the green that once represented the luck of the Celtics is now the color of aged copper. Someone in the Apple Store on Boylston Street referred to it as "vomit green." The Celts' record against the three teams in the East (Orlando, Cleveland, Atlanta) that they'll have to get through to return to the promised land: 3-9. Through the first five of a six-game, two-week homestand at the end of March and the beginning of April, they won the first two and lost the next three.

Then the King (James) and the new kings of the East (the Cavs) came through on Easter and erased a 22-point second-half Boston lead and took the lead in the fourth. The Celtics eventually won, despite LeBron playing like "God disguised as Michael Jordan" (Larry Bird's description of MJ after a 1986 playoff game). But the whispers just got louder.

And almost all of them were about one person: Kevin Garnett.
Click HERE to read the full story.