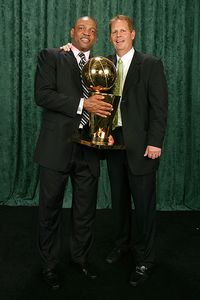 Nathaniel S. Butler/NBAE/Getty
Doc Rivers and Danny Ainge with the Larry O'Brien trophy after the 2008 NBA Finals.Doc Rivers has come miles with the Celtics in his six years as head coach. Whether he's reached the end of the road may depend on this year's finish. From colleague Peter May:
It wasn't all that long ago -- three years to be precise -- that a lot of Celtics home games had three near-guarantees: the sight of some kid sporting a Greg Oden replica jersey, a loss to a better team, and chants of "Fire, Doc!"

You may have forgotten those troubled times, but Doc Rivers most assuredly has not.

"It was brutal," the Celtics coach said of the very difficult 2006-07 season, in which the Celtics won only 24 games, the second worst mark in team history in an 82-game season. "It's something I would never want to go through again, believe me. But at the same time, I knew Danny [Ainge, the Celtics' general manager] believed in me.

"And there's a lesson to be learned in all of this for all general managers," Rivers went on. "If you think your guy can coach, and there's no talent on the floor, then go out and get the talent and make sure your guy can coach instead of overreacting to the situation."

We all know what happened. Ainge went out and got the talent. Rivers coached that talent to 66 regular-season victories and an NBA championship in 2007-08 and to 62 regular-season victories in 2008-09.

Much of that same talent is still around, albeit older and slower. Nonetheless, big things were predicted for and expected from the 2009-10 Celtics, so a 50-victory, playoff-bound season, especially after a 23-5 start, along with a stunning 17 losses at home, looks underwhelming by comparison. Alas, the playoffs ascend with a chance to make everyone forget those grisly home losses to the Nets, Sixers and Wizards.

This was Rivers' sixth season in Boston. He has coached longer in Boston than Chris Ford, KC Jones and Bill Fitch. No Eastern Conference coach has been with his team longer and only the immovable Jerry Sloan in Utah and the similarly secure Gregg Popovich in San Antonio have been with their teams longer than Rivers has been with the Celtics.

"I don't think that says as much about me as it does about the business we're all in," Rivers said. He's probably half-right.
Click HERE to read the full story.