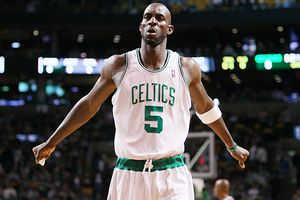 Elsa/Getty Images
Bill Simmons doesn't see Kevin Garnett and the Celtics getting past the Heat in the opening round of the postseason.In the second part of his NBA season review and playoff preview, Bill Simmons predicts a first-round exit for the Boston Celtics. From Simmons:
I thought the Celtics played their fans this season. Don't rope us in with "ubuntu" for two years, then turn your back on it like it was a Kaballah fad or something. Don't tell us to embrace "The New Big 3," then shop Ray Allen for eight months like he was a used car. Don't tell us our best forward's knee is fine when we see him limping. Don't blame the effort of your players after a loss when you played all 12 of them like they were Little Leaguers, or when you keep playing the one guy who exhibits no effort whatsoever without calling him out once. Don't sign a second center for big bucks, then act surprised when the incumbent center bristles about his playing time. So on and so on. It was an empty season filled with excuses, half-truths and false promises. Just because they won two years ago doesn't mean fans had to blindly condone it.

I once wrote that Miami's 2006 title run was like a group of guys in Vegas spending crazy money at dinner, having a great time, ordering dozens of dishes and drinks and never once worrying about the check ... and the 2007 Miami season was the ten sobering minutes when the check arrives and nobody could believe the bill. The check just gets passed around so everyone can stare it in horror, then the one dude with an MBA in economics grabs it and figures out what everyone owes, and you limp out of the restaurant saying, "I can't believe we just spent $250 apiece on dinner, I gotta hit an ATM," only it takes an extra 10 minutes to leave because somebody has to take a dump and somebody else thinks they have a chance with the waitress, so the rest of the guys are just clustered in the lobby, totally full, a little bit drunk, a little bit tired, trying to rally for a big gambling night but knowing that they're about to get their asses kicked because you can never win in Vegas when you're drunk, full and tired.

Welcome to your 2009-10 Celtics postseason. The check has arrived. I hope I'm wrong.
Click HERE to read the full playoff column.