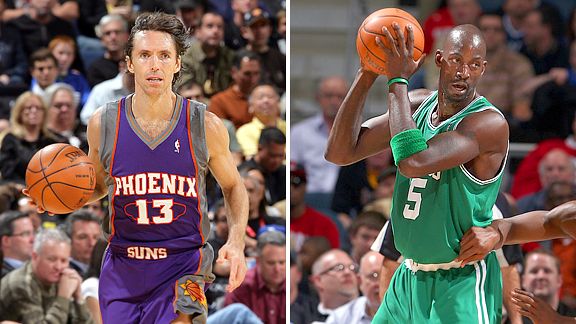 Getty Images
Two teams that could surprise? Ric Bucher picks the Celtics, while Chris Broussard takes the Suns.In their weekly One-on-One series

, ESPN's Ric Bucher and Chris Broussard debate potential playoff surprises, with Bucher seeing a potential playoff run by Boston. Here's the opening exchange:
Bucher: When we first discussed debating who the surprise team of the playoffs would be, I figured the most difficult part would be choosing from a half-dozen or so options. Did I want to go with a playoff newcomer (as in, OKC or Charlotte) that seems poised to pull off a first-round upset? Or did I want to go with a coming-on-strong team (as in, San Antonio or Portland) to reach the conference finals? I decided to go the other way and pick the team whose staunchest fan, The Sports Guy, already has given them up for dead. I'm saying the Boston Celtics are going to be in the Eastern Conference finals.

Broussard: You are certainly going out on a limb, my man, because I don't see any way Boston gets by Cleveland in the second round (assuming the Cavs beat the Bulls in Round 1). I like Charlotte, but the Bobcats won't beat Orlando in the first round. I thought about picking Miami to get to the second round, but that wouldn't be earth-shattering. So I'll take it out West and say Phoenix will stun us all and reach the conference finals.
Click HERE

to read the full conversation.
(h/t: CelticsBlog)