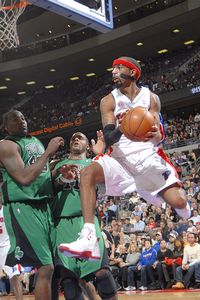 Allen Einstein/Getty Images
Could the Celtics be interested in Rip Hamilton? One report suggests they've kicked the tires over the past year.With the 2009-10 season over for the NBA's 14 non-playoff teams, there's plenty of scuttlebutt about potential offseason roster shaping and a report out of Detroit indicates that the Celtics, at least in the past, had an interest in Richard Hamilton.
From the Detroit Free Press:
It's beginning to look like Hamilton's days are numbered. He really doesn't fit the direction of the team. He's more effective in the half-court game, but there will be a push to increase the tempo next season to take advantage of the talents of the younger players. With three seasons left on the extension he signed last season, it will be tough to move him, but not impossible. An Eastern Conference executive told me recently he still has value and the Celtics have been kicking the tires for the past year. The Pistons may have to take a bad contract in return.
While some would joke that, at age 32, Hamilton is right in Boston's wheel(chair)house, it's hard to imagine the Celtics being interested. Hamilton averaged 18.1 points per game this season, but his field-goal percentage dipped to 40.9 percent (down from his career average of 45.1 percent). He's also owned nearly $38 million over the next three seasons ($12.65 million per season).
If the interest in keeping Ray Allen in Boston is genuine on both sides, it seems Hamilton is hardly an upgrade in anything but age. Allen, who will turn 35 this offseason, averaged 16.3 points per game, but shot 47.7 percent (above his career average of 45 percent). Allen is unlikely to command the $19.8 million he made in the final year of an extension inked in Seattle.
Click HERE to read the full story.
(h/t: Red's Army)