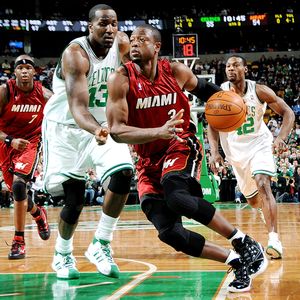 Brian Babineau/NBAE/Getty Images
Dwayne Wade averaged 33.7 points per game against the Celtics this season, yet his Heat lost all three games to Boston.Statistics suggest the Miami Heat are a challenging first-round opponent for the Boston Celtics. So why is everyone picking Boston to win?
In a poll of 10 ESPN NBA experts, all 10 picked the Celtics to prevail, though none picked the series to last fewer than six games.
Even still, given Boston's inconsistent play since Christmas (27-27) and the fact this is a matchup of fourth and fifth seeds, it's a bit surprising that seemingly no one is giving Miami a chance to win.
We scratch beneath the surface of those statistics to reveal Miami's strengths and show why they might not be enough to get past Boston in this first-round matchup.
Click HERE to read the full breakdown. Click HERE for a photo gallery that features a position-by-position analysis.