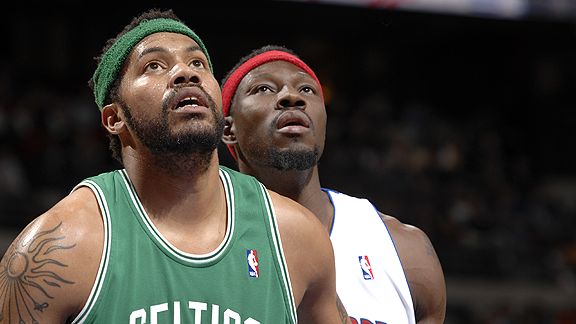 Allen Einstein/NBAE via Getty Images
Rasheed Wallace hears the mix of boo and cheers, but doesn't left it affect him.WALTHAM, Mass. -- While admitting his 2009-10 season was "nothing to write home about," Rasheed Wallace said Friday that his confidence level remains high and he's not about to let the criticism levied at him affect his postseason performance.
"I'm going to be me, no matter what," said Wallace. "Half the people like me and half the people don't. I'm not out here to please the fans or whatever, I'm here to win a title. Some of the fans are mad with me, some of the fans cheer for me. I can't worry about that. I can't play my game off that. I'm going to go out there and do what I've got to do and get the W."
Wallace came to Boston as the prized free-agent acquisition and was supposed to lift the Celtics back to championship caliber after injuries derailed the Green's title defense last season.
But Wallace has been a major disappointment, averaging 9 points and 4.1 rebounds, down from his career marks of 14.6 points and 6.7 rebounds per game.
What's more, Wallace was atrocious shooting the ball. He shot 40.9 percent overall from the field, the lowest of his career, including a dismal 28.3 percent from beyond the arc.
Asked to grade his performance, Wallace admitted it wasn't up to standard.
"So-so, nothing to write home about, it was just so-so," said Wallace. "But I'm not worried about it. It was a down season coming to a new offense, so I'm not worried about it. I'm not making no excuses on how I shot the ball or nothing. I know I had a bad year shooting, but it's part of it."
Click HERE to read the full story.