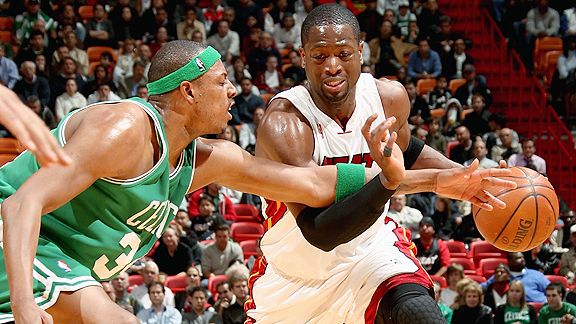 Victor Baldizon/NBAE/Getty Images
You can't stop Dwyane Wade, but the Celtics hope to slow down his supporting cast.One of the questions the Celtics heard over and over again during Friday's practice is, 'How do you guard Dwyane Wade?' Considering the team allowed Miami's star to average over 33.7 points per game during three regular-season matchups, the Green might not be the best ones to ask.
On the other hand, the Celtics won all three games, so they're doing something right. And while coaches and players acknowledged it's nearly impossible to slow down Wade, they want to at least make him work for every shot and force his supporting cast to beat them in the end.
"We're playing a pretty good player [Saturday]," said Celtics coach Doc Rivers, running the risk of an understatement. "You know, you work on it. It's a tough matchup. It's funny, when we were doing individual breakdowns, the Wade segment took longer than usual. Guys were saying, 'You gotta do this, you gotta do this.' The point was made, if it was easy, he wouldn't be Dwyane Wade. He's a tough player.
"I think he's a great offensive player, but I think what he's really improved on is that he's great at getting everyone else involved. He has high-assist games now. But it's the scoring, that's the tough part."
As we've detailed HERE before, the ability for Wade to score in bunches is concerning because Boston has struggled recently when an opponent has a single player reach that 30-point neighborhood. Before the season-ending loss to Miami, Boston's last five losses featured an opposing star scoring 28 points or more in each game.
And, in many cases, it also featured the supporting cast stepping up. Case in point: Oklahoma City's Kevin Durant poured in 37 points and lived at the foul line -- something the Celtics stressed they can't let Wade do -- but it was Jeff Green who hit a pair of 3-pointers in the final two minutes to help the Thunder emerge with the win.
The Celtics can't have it both ways. If they can't find a way to limit Wade, they can't let the supporting cast beat them as well.
"We're not overlooking anybody," said Kevin Garnett. "[Michael] Beasley, [Udonis] Haslem, Jermaine O'Neal, those guys have been in the game and they are a big part of why they've won. I don't think people understand how hot this team was the last 13 games of the season. They were by far the best team in the NBA. Dwyane Wade is the primary, but those other guys make this team go."
Echoed Rasheed Wallace: "Before, it was only D-Wade, but everyone else has stepped up. We respect them as professional basketball players, period. Those guys are good athletes. We know the main focal point is D-Wade, but that's not saying the other guys can't play. We always knew they could play."
So the Celtics have two key areas of emphasis in this series, starting with limiting the supporting cast.
"If Dwyane Wade is going to have a great game, we have to do a good job of shutting down the other guys," said captain Paul Pierce. "We've done that so far. But [Wade is] a great player and he figures it out. He's seen every type of defense. We just want to slow him down. The key is stopping the other guys. You can't have guys like Jermaine O'Neal, Quentin Richardson, and Carlos Arroyo have big games. If Wade plays well, we have to take away the secondary guys."
The Celtics will also try to make Wade expend extra energy on the defensive end, regardless of who he ends up guarding.
"We can predict who they'll put him on, but we can't choose," said Rivers when asked if they'd prefer Wade chase Ray Allen off screens all game. "If he guards [point guard Rajon] Rondo, which we anticipate he will, he's still gotta chase Rondo. If you're a 1, 2, or 3 in this league, you're going to have to play defense. There's going to be movement and picks. Even if they try to use a guy on Rondo as a rover, that still works."