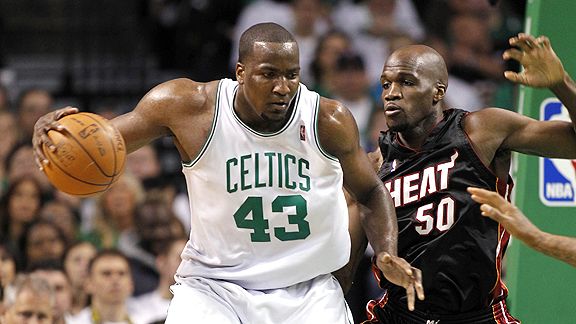 Greg M. Cooper/US Presswire
The Celtics needed to rally from 14 down, but defeated the Heat with a dominant second half.BOSTON -- Instant reaction after the Boston Celtics posted an 85-76 triumph over the Miami Heat Saturday night in Game 1 of an Eastern Conference first-round series at the TD Garden:
How the game was won: Tony Allen came off the bench to score 14 points and provided lockdown defense against Dwyane Wade to spark the Celtics. Paul Pierce overcame a poor shooting performance (4 of 12 overall) to score a team-high 16 points, while Kevin Garnett added 15 points and 9 rebounds before being ejected during a fracas at the end of the game. Dwyane Wade finished with a game-high 26 points for Miami.
Turning point I: Trailing by 14 with under seven minutes to play in the third quarter, Boston closed out the frame on a 17-5 run to trim their deficit to a bucket. Kendrick Perkins sparked a brief 8-0 burst during the stretch with an 8-foot hook shot.
Turning point II: Miami scored the first bucket of the fourth quarter, then went nearly five minutes without a point as Boston embarked on a 10-0 run, highlighted by Glen Davis, who produced an old-fashioned, three-point play (off a pretty feed from Rajon Rondo) and a tip-in of a Rondo miss, as the Celtics opened a 74-68 lead with 6:43 to go and held on from there.
Stat of the game: After shooting 46.2 percent (18 of 39 overall) in the first half, the Heat finished at 39.7 percent (31 of 78 overall). Miami scored a mere 32 second-half points, including just 10 in the final frame.
Unsung hero: It wasn't the best start for Glen Davis, who had his first field goal attempt blocked just 12 seconds after checking into the game. But he ultimately helped Boston even a rebounding battle that Miami dominated in the first half, while also chipping in a pair of big fourth-quarter buckets as Boston pulled away. Davis finished with 8 points and 8 rebounds.
Extracurricular activities: When Pierce spilled to the floor in front of the Miami bench late in the fourth quarter, a dust-up ensued as Garnett and Davis wandered over to help pick him up. Garnett and Quentin Richardson got into a scuffle, which ultimately led to a double technical and an ejection for Garnett. Davis got an offsetting technical in the mess as well.
What it means: Unfathomably, the Celtics came out with absolutely no energy and played uninspired ball for much of the first 30 minutes. But what could have been a demoralizing loss turned into a feel-good triumph as the Celtics rallied behind -- of all people -- Allen and Davis off the bench. The Celtics now lead the series, 1-0, with Game 2 set for Tuesday night at the Garden.