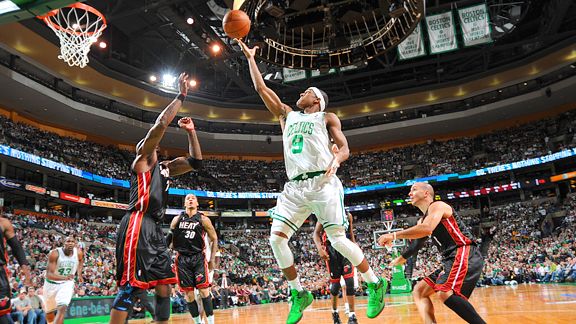 Brian Babineau/NBAE/Getty Images
Rajon Rondo drives to the basket against the Heat in Game 1.A collection of leftovers after the Boston Celtics defeated the Miami Heat in Game 1 of an Eastern Conference first-round series at the TD Garden:
The rundown (a quick look at leftover headlines)
* Not even the flu can keep Rondo off the floor
* For one night, Wade held in check
* Fracas fallout: Pierce said shoulder is OK
* Sugar Ray bloodied in first quarter
Not even the flu can keep Rondo off the floor
The biggest pregame storyline was the health of Boston's flu-stricken point guard Rajon Rondo, who proceeded to log a game-high 43 minutes (eight minutes more than Boston's next closest player and three minutes more than Miami star Dwyane Wade).
What's more, Rondo quietly flirted with a triple-double, registering 10 points, 10 assists and 7 rebounds. And while he looked gassed at times, his neon shoes appeared far greener than he did on the court.
"[Rondo] was great," said Celtics coach Doc Rivers. "I'm worried about [Sunday], but he told me he felt great. He said he felt great, you know, after we did the little walkthrough stuff [Friday]. He thought that really helped him because he broke a sweat and he thought that was big for him. And he got some fluids that stayed down in the afternoon, which was very important. [Trainer] Eddie Lacerte and Dr. [Brian] McKeon probably deserve an assist because Eddie thought of it [Friday]: Send him to the hospital, pump him with fluids now even though he may not be able to hold them down, it will start the process and so he won't be dehydrated. I will say, in the second half, I was literally scared to take him out because I thought if I did, I don't know what we would've gotten back out of him."
For one night, Wade held in check
The other big storyline heading into Saturday's game was how the Celtics would contain Wade, who
averaged 33.7 points per game and shot over 50 percent against the Green during the regular season.
Wade still shot well from the field, but Boston was able to limit his damage as he finished 11-of-18 shooting for 26 points with 8 rebounds, 6 assists, 3 steals and 2 blocks. He also committed seven turnovers and finished at minus-11 in the plus/minus category.
"I think for a couple of minutes there they kind of got in our head," Wade said when asked if the Celtics bullied their way back from a 14-point, third-quarter deficit. "We started turning the ball over and taking bad shots. We can't get into their game with them. That's not a successful game for us because that's not the way we play. Now we're not going to back down, no question about it. You've got to understand that they're going to try to rush you, they're going to try to get up in you. They're going to try to do a lot of things. They're going to get away with more things than we're going to get away with. It's simple, it is what it is. They're respected in this league for their toughness. So you've got to fight through it and come out on the other end of it."
Tony Allen did a spectacular job limiting Wade, holding him without a point for nearly a quarter's worth of time spanning into the fourth frame as Boston's defense propelled the double-digit comeback.
"We knew a lot of the stuff was going to come through D-Wade," said Kevin Garnett. "We know that [Michael] Beasley has the ability to score a lot of points. [Quentin Richardson] shoots the 3-ball really well. This team is probably , to me, the last half [of the season] including some of March, if not the last of April, the best team in basketball. They have been executing and moving the ball. We have beaten them is our sort of mini-camp, if you will... We know all of the plays and just be repetitive with that. Along with that just be gritty, and bring some energy and I thought that we did that."
Fracas fallout: Pierce said shoulder is OK
Amidst all the chaos that ensued in the late-game fracas, it's easy to overlook the reason it began: Paul Pierce's right shoulder injury that forced him to tumble to the floor in front of the Miami bench. After the game, Pierce noted it's an injury that has plagued him throughout the season, but he hopes the pain doesn't linger moving forward.
"I was feeling the pain going down my shoulder, numbness, tingling -- a sensation that you would get when you hit your funny bone," said Pierce, who suffered what he termed a "stinger" in a loss to the Spurs on March 28, then got a similar pain two days later in practice. "That is the sensation that I have been getting down my neck and shoulder, over the past month every time my shoulder gets hit pretty hard. I really didn't pay any attention to it really.
"I feel good. I mean, there is a little tingling in there. Hopefully some ice and rest over the next couple of days it will feel better."
Sugar Ray bloodied in first quarter
AP Photo/Elise Amendola
Ray Allen left the game with a bloody nose in the first quarter.Ray Allen left Saturday's game with a bloody nose.
After the initial injury, trainer Ed Lacerte tried to stop the bleeding from the sideline with 7:34 to play in the first quarter. When it wouldn't stop, Allen retreated to the locker room.
Allen returned to the bench later in the quarter and re-entered the game, plugs in both nostrils, with 1:49 remaining.
Allen finished with eight points on 2-of-9 shooting over 31 minutes.