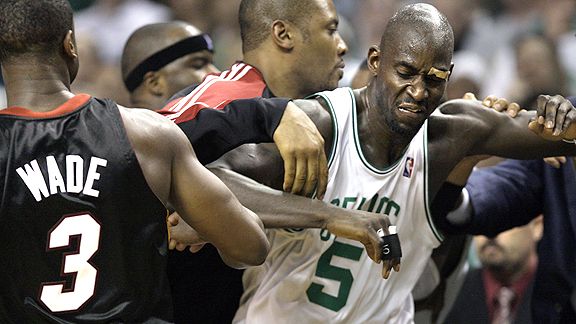 AP Photo/Elise Amendola
Kevin Garnett's elbow helped ignite a fourth-quarter fracas in Game 1.Celtics forward Kevin Garnett has been suspended for Game 2 of Boston's first-round playoff series against the Heat for landing an elbow to the head of Miami's Quentin Richardson in a fourth-quarter fracas during Saturday's Game 1.
The announcement was made Sunday by NBA executive vice president of basketball operations Stu Jackson.
Richardson was fined $25,000 for his role in the altercation.
Garnett earned a double technical and ejection in the melee that unfolded after Paul Pierce tumbled to the ground near the Miami bench with 40 seconds left in Boston's victory at TD Garden.
"I saw Paul grab his shoulder, as a stinger or whatever, so I just tried to immediately call [Celtics trainer] Ed [Lacerte] over," Garnett explained after the game. "I tried to give him some room and I just saw [Quentin Richardson] standing over him talking nonsense. I asked [Richardson] to give him some room and, before you knew it, mayhem started. That situation, man, I know these two [Richardson and Pierce] have competed against each other in the past and have history from bumping heads a little bit. I was just trying to give him the common courtesy for an injured player, that's all. Nothing more, nothing less.
"I have no beef with Q, I know him personally. I thought what he did was a bit disrespectful, standing over a guy hurt, you know, and talking nonsense. Before you knew it, it all just broke out. I gotta use my head, but all I saw was Paul hurt and that's all I cared about at that time."
The news is not unexpected. The Celtics were bracing themselves for the possibility of Garnett's suspension Sunday, though they did lament the fact that the ruling did not come down before their afternoon practice session.
Asked if his team could win without Garnett, Celtics coach Doc Rivers noted, "We better be. We've won games before [without him]. We're not focused on that now, but if it happens, it happens."
It happened. Now Boston's frontcourt reserves including Glen Davis, Rasheed Wallace and Shelden Williams will be called upon to shoulder a bigger load in a pivotal Game 2.
The Celtics sounded confident, even in the face of losing an emotional leader.
"We know we can hold down the fort," said Pierce. "We're not one of those teams that, when the star player goes down, you find excuses to not play hard, to not win."
Referee Joe DeRosa released the following statement after Saturday's game: "[Garnett] was ejected for throwing an elbow that made contact with Quentin Richardson. He had already had one technical foul for taunting with Quentin Richardson before that. Then as the altercation went on, he threw an elbow that did make contact with Richardson, which was his second technical foul and he was ejected."
DeRosa also noted that even if the elbow had not made contact, Garnett would have been disqualified for a second technical.
The NBA's punishment is consistent with past issues of elbowing. The league handed out a one-game suspension to Dwight Howard on April 29 during last year's playoffs against Philadelphia.
After Saturday's game, Richardson sounded off on both Garnett and Pierce.
"I was trying to get over there to take the ball out of bounds and [Garnett] started to talk to me, so I talked back," Richardson said. "I don't have any business talking to him, he was on the ground crying. I don't know what was going on, two actresses over there, that's what they are.
"I just get surprised by people's actions when I know them better than that. They're not those characters they portray. They're not who they say they are, Garnett and Pierce. They're good basketball players and that's about it.
"I said to Jermaine, he's OK because I knew nobody touched him," added Richardson. "Is he taking another break like he does so many times? Sometimes he falls like he's about to be out for the season and then he gets right up, that's all I said.
"I don't like them, and they know it."
On Sunday, Garnett tried to defuse the situation by not responding to Richardson's comments.
"No thoughts at all," Garnett said of Richardson's comments. "Classless -- a classless act on his part. I'm moving on with it. I'm not going to go back and forth commenting through [the media]. End this."