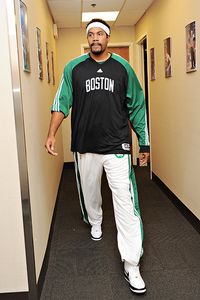 Brian Babineau/NBAE/Getty Images
Rasheed Wallace likes to have fun around the Boston locker room.It's a moment fans never get to see, but here's a tiny glimpse into the behind-the-scenes relationship Rasheed Wallace and coach Doc Rivers share, and the light-heartedness that Wallace, despite all his on-court struggles, has brought to the Boston locker room:
Basketball players are suckers for routines and pregame activities can often be clockwork. For the Celtics, Wallace heads out to the court for a light pregame warm-up at nearly the same time each home game and he almost always returns to the locker room while Rivers is holding his pregame chat with the media.
In what seems like each of the 41 home games this season, Wallace has done a variation of the same joke, where he loudly chastises Rivers and the media for clogging up the hallway outside Boston's locker room. Sometimes Wallace will simply scream, "Fire hazard!" or he'll threaten to call the fire marshal.
It never fails to get a chuckle out of Rivers, who is typically mid-answer when it occurs.
Before Saturday's Game 1 of a first-round playoff series against the Heat, Wallace put a new spin on the joke, mimicking the noise a fire engine might make as he walked past the overflow crowd around Rivers. At Monday's practice, with Wallace holding court with reporters about his increased role with Kevin Garnett suspended for Game 2, Rivers walked past the media huddle and earned a measure of revenge by making the same fire engine noise, leaving reporters and Wallace in stitches.
Check out the clip below which features a snippet of audio from Rivers' pregame chat before Game 1, then Wallace's chat on Monday.
Fire Hazard! by Chris Forsberg
During his Q&A Monday, Wallace was asked about his experiences in Boston and his answer was revealing:
"It's cool, I'm here with a great group of guys," said Wallace. "We're all for each other. It's cool, I have no complaints. The one thing I like is the locker room gets along well. Guys do things together off the court. That shows the mark of a good team. There's a lot of teams in the NBA where, on the court, OK, I'll play with you, but, off the court, I really don't mess with you or anything like that. It's not like that here."
As much as some have wanted to pin all of Boston's struggles and inconsistencies on Wallace, it's clear a lot of his teammates love his locker room presence and are rooting for him to get back to the form that made him such a force in Detroit.