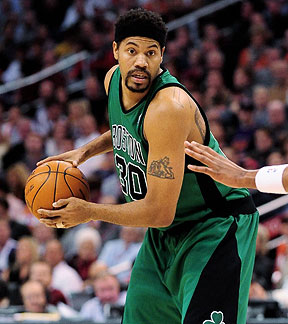 Mark J. Rebilas/US Presswire
Regardless of whether he starts, Rasheed Wallace needs to step up in Game 2 for the Celtics.The fact that Celtics coach Doc Rivers is even debating the issue of who to start in place of suspended Kevin Garnett in Game 2 of Boston's Eastern Conference first-round playoff series with the Miami Heat is slightly condemning of Rasheed Wallace's play.
After all, Garnett sat out 11 games this season due to injury (two more for rest) and, so long as he was healthy, Wallace got the call for the spot start at power forward.
But here Boston is in the postseason, where the games matter most, and Rivers, while not tipping his hand Monday, seemed to be leaning in favor of starting Glen Davis over Wallace in Tuesday's Game 2.
While Davis has been a bit of a disappointment this season with his statistics (6.3 points and 3.8 rebounds per game) -- way off from the potential he showed in last year's postseason while filling in for an injured Garnett -- Wallace hasn't done much to distinguish himself with his own play.
On paper, Wallace's numbers are better (averaging 9 points and 4.1 rebounds), but Game 1 showed exactly why Rivers is debating the situation. Wallace's stat line look like a call to directory assistance as he logged 4 points, 1 rebound and 1 assist in 14 unremarkable minutes.
Davis, meanwhile, provided a burst of energy, particularly in the fourth quarter, where he scored five of his eight points to help Boston pull away from the Heat. Davis added eight rebounds and two steals over 24 high-intensity minutes.
For his part, Wallace said Monday that it doesn't matter who starts, as long as he's out there helping the team finish. Wallace's stance is a good philosophy for his entire season. It doesn't matter how he started, it's all about how he finishes.
Click HERE to read the full story.