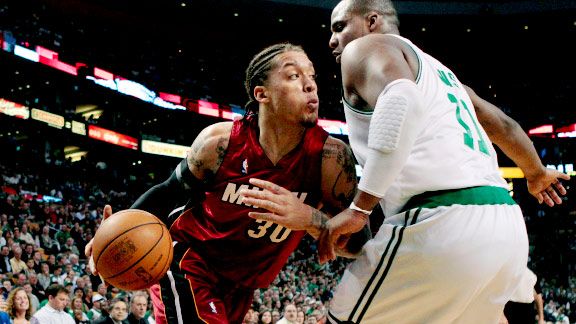 AP Photo/Elise Amendola
Glen Davis performed well in a spot start for suspended Kevin Garnett.BOSTON -- Instant reaction after the Boston Celtics posted a 106-77 triumph over the Miami Heat in Game 2 of an Eastern Conference first-round series Tuesday night at the TD Garden:
How the game was won: Filling in for suspended Kevin Garnett, Glen Davis -- the self-proclaimed "Ticket Stub" -- scored 23 points on 7-of-14 shooting with 8 rebounds over 27 minutes. Ray Allen added a team-high 25 points on 9-of-13 shooting, including seven 3-pointers over 33 minutes. Dwyane Wade paced Miami with 29 points on 11-of-18 shooting, but finished with a minus-29 in the plus/minus category.
Turning point: Miami led 29-25 with 10:10 to play in the second quarter, but Boston embarked on a 21-0 run, holding the Heat scoreless for eight minutes while building a 46-29 advantage. Michael Finley and Ray Allen ignited the spurt with back-to-back triples and Glen Davis chipped in six points along the way.
Turning point II: At nearly the same point in the third quarter, the Heat again went quiet and Boston embarked on a 16-0 run, holding the Heat scoreless for a little less than five minutes while building a 69-37 advantage. Ray Allen produced a trio of 3-pointers to highlight the stretch.
Stat of the game: The Celtics finished with a 50-27 advantage in rebounds, highlighted by a balanced effort on the glass.
Unsung hero: Kendrick Perkins quietly posted a mind-numbing plus-41 in the plus/minus category, chipping in 13 points and 9 rebounds over 26 minutes and adding some spectacular defense around the basket.
What it means: The only time the Celtics fans booed was when Quentin Richardson touched the ball. And even that took a backseat to unbridled elation as Boston opened a 30-point cushion in the third frame. The Celtics boast a 2-0 advantage heading to Miami and have all the momentum, especially with the impending return of Kevin Garnett in Game 3.