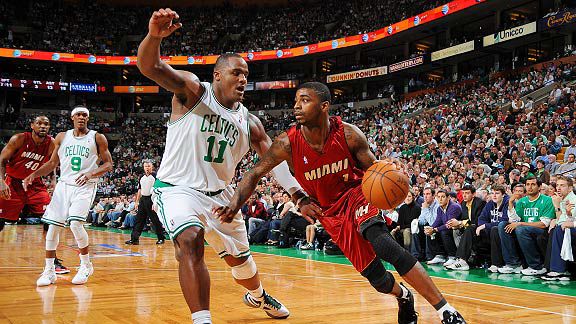 Brian Babineau/NBAE/Getty Images
Doc Rivers chose to start Davis because of his foot speed. Davis made his coach look like a genius.BOSTON -- A glimpse at the ESPN stories from Boston's Game 2 victory over Miami Tuesday:
Sheridan: Baby's outburst meant quiet night for KG's baby
This just in from Danny Ainge's basement: Kevin Garnett was vocal and animated while watching the game with a few buddies on Ainge's sofa, but he didn't break any furniture and he kept the decibel level low enough to avoid waking his 2-year-old daughter.

Which means only one thing went wrong for the Boston Celtics on Tuesday night: Paul Pierce guessed incorrectly afterward when he said Garnett "probably hit his head on the ceiling a couple of times."

Had that crashing of cranium and plaster actually happened, there's no doubt it would have been violent enough to awake not only Garnett's daughter, nicknamed "Peanut," but probably a few of the Ainge children, too.

Instead, peaceful slumber was all Garnett's toddler, Kapri, experienced as she slept upstairs while KG and a few buddies retreated to Ainge's man cave to watch Boston's 106-77 destruction of Miami in Game 2 of their first-round series.

"He has a lot of energy watching a game, I'll tell you that. It's fun," Ainge told ESPN.com. "He was up like he always is, very positive, talking all the time. And he was very excited for Baby.

"I had watched a game at his house but he had never done it here, and we were down in the basement, so I don't think he woke her up," Ainge said.
Click HERE to read the full story.
May: Vintage Ray makes Heat pay
Who knew Ray Allen was going to go Eyjafjallajokull? (That's the air travel-wrecking volcano in Iceland, but it also might be a loose translation of what Miami coach Erik Spoelstra was muttering to his assistants in the second half of Game 2 Tuesday night.)

Elsa/Getty Images

Ray Allen couldn't miss from beyond the arc.Allen was dropping them from anywhere and everywhere, an explosion we haven't seen from him in awhile. We certainly know Allen has it in him. He will in all likelihood become the most productive three-point shooter in league history sometime next year. He dropped 51 points on the Bulls last year in the playoffs. He was arguably the Celtics' most consistent player this season after the All-Star Game.

But he was a non-factor in Game 1 of the Celtics-Heat playoff series, managing just 8 points on 2-of-9 shooting, bothered by an inconvenient, rhythm-distracting bloody nose. He then went shot-less in the first quarter of Game 2, content to observe the Celtics' Smashmouth Game Plan being exercised to near perfection by Glen Davis and Kendrick Perkins.

But Doc Rivers knew something had to change. "We had to get Ray some shots,'' he told anyone who would listen.

Allen's thoughts at that point? "I'm 100 percent. I haven't missed,'' he said.

Classic Ray.
Click HERE to read the full story.
Forsberg: A defense to make KG proud
A simple statistical comparison tells the story of the Celtics-Heat series through two games: Dwyane Wade is 22-of-36 shooting (61 percent) for 55 points. His supporting cast is 38-of-118 shooting (32.2 percent) for 98 points.

The Celtics never tried to hide their game plan entering this Eastern Conference first-round series. The strategy all along was to let Wade get his (while doing their best to limit him) and challenge his 11 teammates to beat them.

It hasn't happened. It hasn't even been close.

Despite playing without their emotional leader in Kevin Garnett (a one-game suspension), the Celtics cranked their defensive intensity to a KG-like level Tuesday night en route to a 106-77 triumph at the TD Garden.

"We're trying our best to stop Wade, it just hasn't been working out very well," said Celtics coach Doc Rivers. "But we absolutely have had a focus on everyone else. Our theory always is that the great players are going to be great. We try to make them shoot a poor percentage -- we've been unsuccessful in that part, but we can't let everybody else beat us as well.

"So we haven't had an adjustment as far as our game plan, but we have focused on everyone else. We've had a lot of focus on Wade, too, but what we don't want to do is be mesmerized by him and letting everybody else get off."
Click HERE to read the full story.