Celtics forward Glen Davis, fresh from the postgame podium, to which he was invited after a 23-point effort in place of suspended Kevin Garnett in Boston's Game 2 victory over the Miami Heat Tuesday night, returned to the locker room to find a swarm of TV cameras near his locker as the media waited patiently to chat with Ray Allen.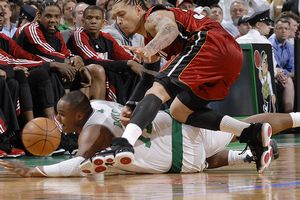 Brian Babineau/NBAE/Getty Images
Michael Beasley avoided Glen Davis on this spill to the floor. Mario Chalmers wasn't so fortunate.When Allen didn't immediately appear, reporters turned their attention to Rasheed Wallace, Davis' locker neighbor, but when asked if he wanted to talk, Wallace simply picked up his gear and said, "Talk to Baby; It's Baby's night."
And with that, Davis, looking dapper in a suit with red-striped button-down shirt and matching red pocket square, wheeled around for an unprecedented second tour of media duties.
Clearly, Davis loves a spotlight and a stage.
"I might have a problem with the camera in my face, because I like that a lot," Davis said with a smile. "I don't know. I just love the game. I love playing the game, especially on the big stage. Hopefully I can be a legend one day, do some big things."
Colleague Chris Sheridan detailed Davis' legend-like performance in a spot start for Garnett Tuesday. But here's one irrelevant, yet somewhat humorous Davis leftover from Tuesday's win:
Davis' final stat line read 23 points, 8 rebounds, 1 steal, and 1 block. If the NBA kept such a stat, Davis would have also been credited with a third-quarter pancake of Miami's Mario Chalmers.
The 6-foot-1, 190-pound Chalmers had the misfortune of getting caught in Davis' path while trying to defend Allen. Davis and Chalmers got tangled and spilled to the floor, Davis clearly utilizing his past success as a football fullback to fall on top of Chalmers in the paint.
Adding insult to injury, Chalmers was whistled for a blocking foul on the wince-inducing moment.
"I think he tried to hug me," said Davis. "He tried to show me how much he loves my game. He just hugged me, let me know everything was going to be alright."
It couldn't have felt good for either party, though. Right?
"It felt like Paul Bunyan's bed," quipped Davis. "Felt like pillows, a water bed."
But clearly Chalmers got the worst of it with 289-pound Davis falling down on top of him, no?
"I have no idea," said Davis. "I know I'm light."