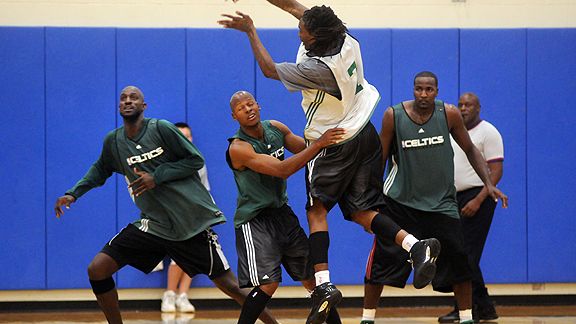 Darren McCollester/NBAE/Getty Images
After a season thin on practice days, the Celtics like the postseason layout.Magic coach Stan Van Gundy might not be a fan of the stretched out NBA postseason, but Doc Rivers and the Celtics think it's just fine.
Van Gundy sounded off before Wednesday's Game 2 win over Charlotte about the space between first-round games, pointing to the fact that the playoffs began April 17, but the NBA Finals won't end until mid-to-late June.
"It's almost like you're on a high school schedule or a college schedule playing twice a week," Van Gundy told reporters. And while he acknowledged the schedule is due in large part to the lucrative TV contracts, he pointed to other professional sports that move along at a quicker pace.
"Baseball gets their whole playoffs and World Series done in like three weeks," said Van Gundy. "Us, it takes us the first round to go three weeks."
Asked if a two-day break between Games 2 and 3 could stem any of the momentum Boston built with a lopsided victory Tuesday night, Rivers noted the positives outweigh negatives associated with the additional time off.
"I love it, it's great for us. Don't forget we're so old," Rivers joked. "But I don't think it hurts us at all. Especially the travel day, this is a long [flight]. This isn't your typical hour-and-a-half flight. It's three-plus hours This allows us to have this day of film [Wednesday] -- a day off kinda -- and [Thursday] a hard practice and get on the long flight."
The Celtics wrapped the regular season on April 14, resting most of their stars in that game, and have played only two games in the eight days since. This after playing eight games over the first 14 days of the month, including three back-to-backs to wrap up the season.
Click HERE to read more about Van Gundy's gripes, including how his team played on Christmas, Thanksgiving, and Easter this season.