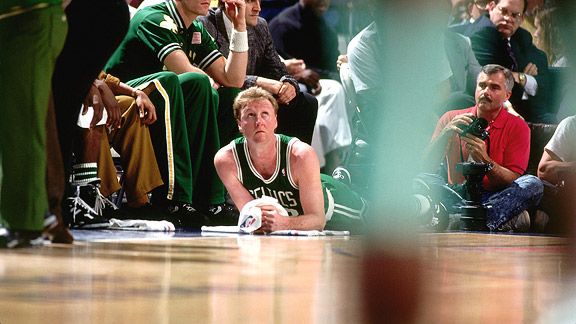 Nathaniel S. Butler/NBAE/Getty Images
The only time the Celtics didn't win a series after boasting a 2-0 lead, Larry Bird's back was acting up in 1990.While detailing the prime position Boston finds itself in up 2-0 over the Miami Heat in the teams' first-round, best-of-seven series, we neglected one incredible stat: The Celtics have been up 2-0 in a series 44 times in franchise history and failed to advance just once.
What's more, the Celtics have never lost a best-of-seven series after taking a 2-0 advantage. Boston is 31-0 when it wins the first two games of a best-of-seven series
The Celtics' lone playoff loss in those 44 matchups came when the New York Knicks won the final three games in a best-of-five, first-round series in 1990. That, too was a matchup of fourth (Boston) and fifth (New York) seeds, but let's just say there wasn't a whole lot of defense in that series. Check out the game scores:
* Game 1 - Boston 116, New York 105
* Game 2 - Boston 157, New York 128
* Game 3 - New York 102, Boston 99
* Game 4 - New York 135, Boston 108
* Game 5 - New York 121, Boston 114
The Knicks proceeded to lose to the eventual NBA champion Detroit Pistons in five games in the conference semifinals.