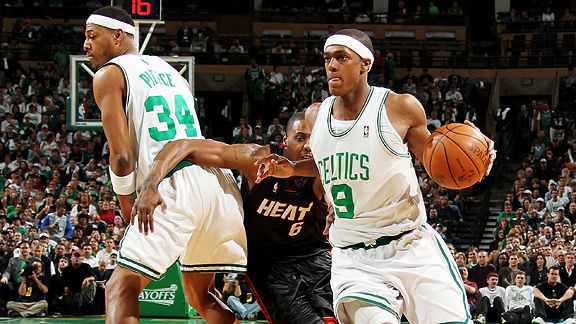 Nathaniel S. Butler/NBAE/Getty Images
Two voters regarded Rajon Rondo as the most improved player in the NBA this year.While not as notable as his fifth-place finish in the Defensive Player of the Year Award balloting earlier this week, Celtics point guard Rajon Rondo picked up a pair of first-place votes to finish 12th in returns for the Most Improved Player Award.
Rondo registered 12 points off two first-place and two third-place votes, tying Washington Andray Blatche for 12th place. Houston's Aaron Brooks won the award with 403 total points, easily outdistancing Oklahoma City's Kevin Durant, Memphis' Marc Gasol, and San Antonio's George Hill, who all registered 101 points.
Here's a quick glance at Rondo's improvement this season over his career numbers. It's easy to see how he made the leap to All-Star this year:
Points per game - 9.6 career, 13.7 in 2009-10 (+4.1)
Assists per game - 5.7 career, 9.8 in 2009-10 (+4.1)
Steals per game - 1.73 career, 2.33 in 2009-10 (+0.6)
FG - 48 percent career, 50.8 percent in 2009-10 (+2.8)
Assist/turnover ratio - 2.74 career, 3.22 in 2009-10 (+0.48)
Double-doubles - 23 career, 40 in 2009-10
Follow the jump for the list of the yearly winners since the award's inception in 1985 and this year's complete balloting.
1985-86Alvin Robertson, San Antonio
1986-87Dale Ellis, Seattle
1987-88Kevin Duckworth, Portland
1988-89Kevin Johnson, Phoenix
1989-90 Rony Seikaly, Miami
1990-91Scott Skiles, Orlando
1991-92Pervis Ellison, Washington
1992-93Mahmoud Abdul-Rauf, Denver
1993-94Don MacLean, Washington
1994-95Dana Barros, Philadelphia
1995-96Gheorghe Muresan, Washington
1996-97Isaac Austin, Miami
1997-98Alan Henderson, Atlanta
1998-99Darrell Armstrong, Orlando
1999-00Jalen Rose, Indiana
2000-01Tracy McGrady, Orlando
2001-02 Jermaine O'Neal, Indiana
2002-03Gilbert Arenas, Golden State
2003-04 Zach Randolph, Portland
2004-05*Bobby Simmons, L.A. Clippers
2005-06Boris Diaw, Phoenix
2006-07Monta Ellis, Golden State
2007-08Hedo Turkoglu, Orland
2009-10 Most Improved Player Award
(listed with player, team, 1st place votes, 2nd place votes, 3rd place votes, and total points):
Aaron BrooksHouston622712403
Kevin DurantOklahoma City1751101
Marc GasolMemphis91317101
George HillSan Antonio71715101
Andrew BogutMilwaukee717793
Russell WestbrookOklahoma City5119 67
Joakim NoahChicago78564
Gerald WallaceCharlotte34229
Corey BrewerMinnesota - 31019
Brook LopezNew Jersey13519
Carl LandrySacramento- 4618
Andray BlatcheWashington12112
Rajon RondoBoston2- 212
Channing FryePhoenix1 -510
Danilo GallinariNew York -1710
Josh SmithAtlanta- 228
David LeeNew York -- 77
Dwight HowardOrlando1- -5
Ersan IlyasovaMilwaukee -114
Chris KamanLA Clippers -114
J.J. RedickOrlando -114
Chris Douglas-RobertsNew Jersey -1 -
3
Paul MillsapUtah -1 -3
NeneDenver -1 -3
Robin LopezPhoenix -- 22
Monta EllisGolden State - -11
J.J. HicksonCleveland - -11
Zach RandolphMemphis - -11
John SalmonsMilwaukee - -11
Ben WallaceDetroit - -11