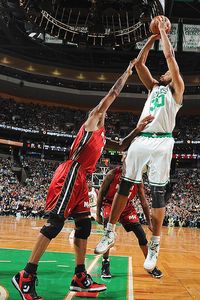 Brian Babineau/NBAE/Getty Images
Rasheed Wallace earned his third fine of the year Thursday for criticizing officials.Celtics forward Rasheed Wallace has been fined $35,000 for publicly criticizing game officials in comments made to the media on April 19.
The announcement was made Thursday by NBA executive vice president of basketball operations Stu Jackson.
Wallace, who opened Monday's session with the media by noting he didn't want to talk about the Paul Pierce-Quentin Richardson-Kevin Garnett fracas, did sound off about picking up two quick fouls in Game 1.
"At times I know they're out there baiting me like the other night in Game 1 with those two quick fouls," said Wallace, according to the Boston Globe. "I know that certain referees were trying to bait me to get a tech. You could see it coming from a mile away. Like I say, I don't like to be cheated. I can deal with a loss. I can deal with playing bad. I can deal with getting my [butt] busted. I just don't like to be cheated. Bottom line."
Wallace also suggested Miami's Dwyane Wade is the recipient of superstar treatment.
"That's one thing I always try to tell the guys," Wallace said. "We also have to look out for the Wade factor. You know how that is, with the TV ratings and all this. Not taking away or saying that he's not a good player, don't get me wrong, but I mean, come on. You know what it is. It's about the business game as opposed to the basketball game."
Wallace got called for a technical foul in the first half of Tuesday's Game 2 when he shoved the Heat's Jamaal Magloire as the two got arm-locked under the basket after a Miami make. Wallace did not talk to reporters after the game.
This is the third time Wallace has been fined this season for criticizing officials. His season total is now an even $100,000.
On Jan. 21, Wallace was fined $35,000 for comments made after Boston's 99-90 loss to the Dallas Mavericks.
"[The officials] don't like tough defense on [Dirk Nowitzki], so, of course, I get a whole lot of [expletive] calls," Wallace said after Monday's game in which foul trouble limited his minutes. "That's how the story goes, I'm not worried about it. We'll see them again."
On Nov. 30, Wallace was fined $30,000 for comments made after Boston's 116-103 victory over the Toronto Raptors.
"They've got to know that [Hedo Turkoglu is] a damn flopper," said Wallace. "That's all Turkododo do. Flopping shouldn't get you nowhere. He acts like I shot him. That's not basketball, man. That's not defense. That's garbage, what it is. I'm glad I don't have too much of it left."
Wallace registered 14 technical fouls during the 2009-10 regular season and is the NBA all-time leader in technical fouls at 304.