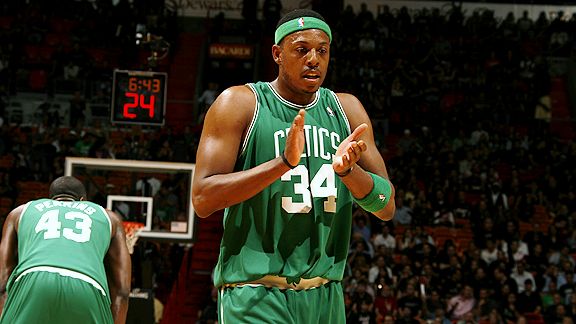 Issac Baldizon/NBAE via Getty Images
Celtics captain Paul Pierce had plenty to be excited about in Miami.MIAMI -- Instant reaction after the Boston Celtics posted a 100-98 triumph over the Miami Heat in Game 3 of an Eastern Conference first-round series at the AmericanAirlines Center:
How the game was won: Paul Pierce scored a team-high 32 points on 11-of-23 shooting and hit a mid-range jumper at the buzzer to give Boston a 3-0 series edge. Ray Allen added 25 points on 8-of-16 shooting, while Rajon Rondo (17 points) and Kevin Garnett (16 points) chipped in on the offensive output. Dwyane Wade scored a game-high 34 points to pace Miami.
Turning point I: The Heat boasted a one-point advantage with 2:12 to play in the third frame, but gave up two offensive rebounds to Boston and Glen Davis ultimately ended up on the charity stripe for a pair of free throws that started an 11-2 run to close out the quarter. Pierce scored the remainder of the points on the run, including a 3-pointer in the final second for an 80-72 advantage.
Turning point II: Boston kept Miami at arm's length for much of the final quarter, but a loose-ball foul on Pierce led to two free throws for Dorell Wright and a 92-91 advantage for the Heat with 3:46 to play. Unfazed, Boston rallied back to take a 95-94 lead with 2:30 to go when Ray Allen buried a 3-pointer. With the game tied at 95, Rondo pulled down an offensive rebound of a Pierce miss and fed the captain for a 3-pointer of his own for a 98-95 lead with 1:42 to play. Only for Wright to answer with a trifecta and tie the game with 1:29 to play.
Turning point III: Wade missed late -- then collapsed to the ground as his left knee cramped up -- setting up Pierce's heroics. Running off an ISO at the right wing, Pierce stepped back before draining a 21-foot jumper and -- after video reviewed confirmed what the entire building knew -- Boston had itself a monster victory on enemy soil.
Stat of the game: The Celtics won the battle of the boards, 38-34, just as coach Doc Rivers pointed to as the key for Friday's game.
Unsung hero: Rondo's assist total (8) was lower than normal, but he scored 17 points and his hustle cannot be overlooked. Rondo grabbed three offensive rebounds, leading to big second-chance baskets, and kept other plays alive by tipping the ball. After the game, Rivers dubbed it, "Just Rondo being Rondo."
What it means: The Celtics boast a nearly insurmountable advantage as no team in NBA history has rallied from a 3-0 deficit in a best-of-seven series. The only question is how quickly can Boston put the Heat away and turn their attention to what would appear to be a second-round clash with the top-seeded Cavaliers. The two teams clash in Game 4 Sunday afternoon back here in Miami.