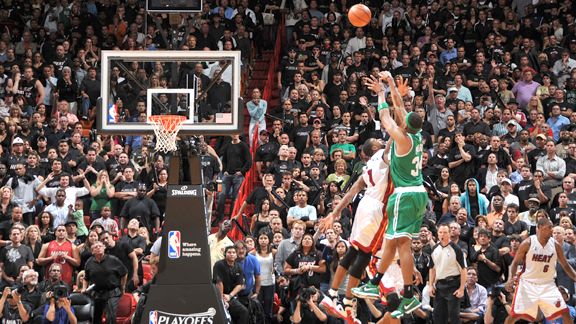 Jesse D. Garrabrant/Getty Images
Paul Pierce connects on the winning shot in Game 3.MIAMI -- A collection of postgame news and notes after the Boston Celtics defeated the Miami Heat in Game 3 of an Eastern Conference first-round series at AmericanAirlines Arena:
The rundown (a quick look at postgame headlines)
* Heat burned on game's final play
* Wade watches final play with leg cramps
* C's endure Miami's best shot, bounce back
Heat burned on game's final play
The fact that the Celtics ran an isolation play for Paul Pierce to generate the game's winning basket probably wasn't a surprise to anyone in Boston. Even when games are not on the line, the Celtics love utilizing that spread-the-floor formation at the end of quarters to generate a quality one-on-one look for Pierce.
But Heat coach Erik Spoelstra admitted his staff was left guessing on a possible final play Friday, particularly since one of Miami's most memorable losses of the season featured Pierce lobbing Rajon Rondo a game-tying alley-oop in the final seconds of regulation in a 112-106 overtime triumph on Jan. 6.
"They have so many different late-game situations, if you go through their [game video] edits, there's no pattern," said Spoelstra. "They have so many proven 25-point-per-game scorers on their roster, they just usually go with the hot hand.
"We anticipated it would be a Pierce-[Kevin] Garnett pick-and-roll. Instead they [isolated] it and gave [Pierce] a shot there at the end. They are one of the most difficult teams to get a read on. We've spent a lot of time trying to do that."
The final play also came under scrutiny because the Heat elected not to commit a foul with one to give. Even Pierce admitted he was a bit startled when a defender didn't come foul him before the final attempt.
"It was definitely surprising," said Pierce. "I was ready for them to come foul and I was going to try to get a shot up, but they didn't come."
The Heat didn't lament the defense on the final shot as 6-foot-9 Dorell Wright contested the toss.
"I thought D-Wright did everything he could on that last play," said Quentin Richardson.
Wade watches final play with leg cramps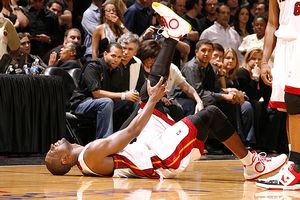 Issac Baldizon/NBAE via Getty Images
Dwyane Wade grabs his leg in pain from cramps.Miami guard Dwyane Wade watched the final play of the game from the bench after cramps in his left leg forced him to the sidelines for the waning moments.
Wade spilled to the floor clutching his left knee area after the cramps intensified when he missed a 3-point attempt in a tied game with 11 seconds to go. Boston hauled in the rebound and called a timeout to draw up a final play. Wade was attended to by trainers, then carried off the court, putting no weight on the leg.
"I was just cramping up the last five minutes of the fourth [quarter]," said Wade, who Spoelstra said sweat through two jerseys during the game and could be seen getting his left leg massaged near the bench during the final frame. "I was trying to hold it off as much as possible. When I bent down to shoot the shot, it came. It was a bad cramp. I couldn't even bend my legs. I didn't step on [the defender's] foot. It's nothing serious, just cramping."
The Heat don't seem concerned that Wade will be limited moving forward and he's expected to play in Sunday's Game 4.
"It limited me the last five minutes," said Wade. "I wanted to attack and be more aggressive, but I knew that that's how it would have ended up. I had nothing. I was trying to fight through it and pass to my teammates. They hit some big shots. But it was very unfortunate. The basketball gods were with [the Celtics] on that one because I wasn't able to put the pressure on them at the end like I wanted to.
"I kinda knew once I was on the floor that the cramp was not going away. It got tighter and tighter and I knew I wasn't going to be on the floor at that time and it just sucks, especially because I know how many plays I can make at the end of ball games."
C's endure Miami's best shot, bounce back
After being held under 80 points in each of the first two games of the series, Miami erupted for 29 first-quarter points with Wade alone connecting on 6-of-9 shots for 15 points. But Boston stood toe-to-toe with the Heat and their at-times raucous (yet not even close to sold-out) crowd during that first frame and emerged with a mere two-point deficit.
"They hit us with an early punch, especially with Wade," said Rondo. "His goal was to be aggressive early, which he was. We maintained our poise and kept our focus and weathered the storm."
Boston did find itself behind in the fourth quarter as Miami rallied ahead. But in a game that Rivers stressed would test his team's mental resolve, the Celtics again stayed the course.
"We knew they were going to attack and play hard," said Kendrick Perkins. "We just kept fighting. Down the stretch, Doc drew up some great plays. We just kept getting stops when we needed to get stops."
Said Rivers: "I was thinking we were letting [the lead] slip away, but I did like our team's effort. I like our energy and our effort and I thought we were playing well. We were focused and they just made some plays. I thought we got a little fast offensively, so we told our guys to just slow it down a bit."