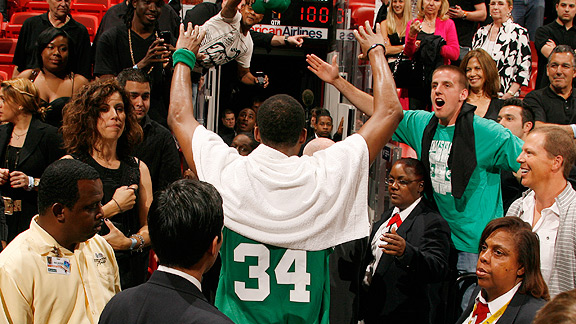 Issac Baldizon/NBAE/Getty Images
Paul Pierce leaves the court with arms in the air.MIAMI -- Following his last-second heroics in Boston's Game 3 victory over the Miami Heat on Friday night, Celtics captain Paul Pierce was asked if he could recall the last time he hit a winning shot.
Pierce hesitated for a moment as he thought about the question, his mind likely racing back through the entire 2009-10 slate and coming up empty, before noting it was last year's first-round playoff series against the Bulls, a Game 5 victory at the TD Garden.
OK, but even that came with a few seconds left on the clock. What about an honest-to-goodness, walkoff moment?
Evidently, you'd have to go back to Dec. 9, 2006, well before the Big Three even united, and before Pierce hit rock bottom as the Celtics endured a franchise-worst 18-game losing streak later that season. In that contest, Pierce buried a 22-footer over Jason Kidd for a 92-90 triumph over the New Jersey Nets.
According to the wizards at ESPN Stats and Research, Pierce only has three such walkoff moments during the regular season since the 2002-03 campaign (the others being Nov. 10, 2004 vs. Portland and March 7, 2006 vs. Wizards).
Once regarded as one of the deadliest shooters with the game on the line -- after that New Jersey win, Pierce had six career game-winners in the final seconds, better than Kobe Bryant to that point -- it was starting to feel like forever since Pierce potted the winner as the buzzer turned red.
According to the folks at Elias Sports Bureau, Pierce was 0 for 2 on final shots in situations to win or tie a game this season in the final 10 seconds of regulation or overtime, and that doesn't include moments like an overtime loss to Houston, in which Pierce didn't even get a final shot off before the clock expired in regulation.
Heck, some were starting to lament when the Celtics even ran their final shot through Pierce. The isolation play had become as predictable as the result: A miss. Some wondered if we'd ever see vintage Pierce again.
We saw him Friday night.
Click HERE to read the full story.