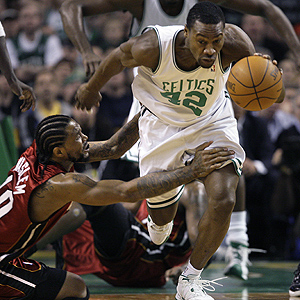 AP Photo/Elise Amendola
Boston is starting to look like the team that started the 2009-10 season at 23-5 overall.Entering Saturday's playoff action, only one team -- the Boston Celtics -- boasted a 3-0 series advantage in their first-round playoff series (though the Hawks and Magic were hopeful to join them after winning the first two games of their matchups).
So how exactly did a team that was frighteningly inconsistent over the final four months of the regular season -- posting a pedestrian 27-27 record after Christmas -- suddenly morph into an undefeated playoff juggernaut? Did the Celtics really flip that playoff switch?
"We struggled [late in the year], but some of it was self-imposed, in some ways, with forced rest" Celtics coach Doc Rivers said before his team's Game 3 win. "I thought we won a couple games that we pointed to down the stretch. That was kind of missed. The Cleveland game [on Easter Sunday] was a big game, then we went into Milwaukee and won. We had that one circled and that was a big game for us, because we thought that's who we would play [in the opening round of the postseason].
"Honestly, I didn't know. I did say, going in, as far as rest and rhythm, I thought we were in a very good spot. The results were bad over the last 10 games, but I did like where we were at. You just don't know."