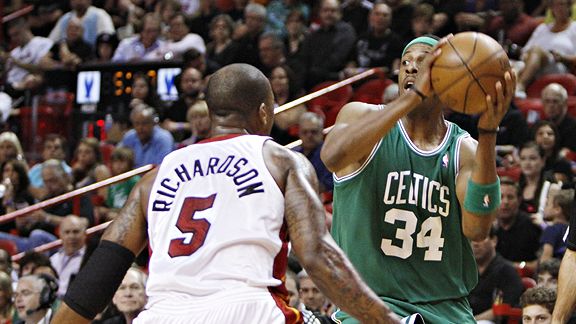 AP Photo/J Pat Carter
Paul Pierce and the Celtics had no answer for Dwyane Wade Sunday.MIAMI -- Instant reaction after the Miami Heat posted a 101-92 triumph over the Boston Celtics in Game 4 of an Eastern Conference quarterfinal series at AmericanAirlines Arena:
How the game was won: If this was Dwyane Wade's final game in front of Miami fans, he gave them one lasting memory, pouring in a career playoff-high 46 points on 16-of-24 shooting, and single-handedly keeping Miami's season alive with an early fourth-quarter rally. Rajon Rondo chipped in a team-high 23 points, while Kevin Garnett (18), Paul Pierce (16), and Ray Allen (15) all help pace the Boston offense.
Turning point I: After Boston scored the first basket of the game, the Heat embarked on a 12-0 run, sparked by Quentin Richardson, who scored 10 of his team's first 15 points while building a double-digit lead. The Celtics rallied back to make it a three-point game with 5:07 to play in the first quarter, but...
Turning point II: Boston got sloppy and endured a four-minute scoreless drought and Miami posted a 14-0 run, this time with Wade scoring 12 of those points -- including a ridiculous reverse double-pump jam on a fastbreak -- for a 31-14 advantage.
Turning point III: The Celtics whittled Miami's lead from 18 to 6 at halftime, then pulled ahead in the third quarter, largely on the play of Rondo, whose layup with 3:54 to play in the frame put Boston on top, 64-62, its first lead since the first bucket of the day.
Turning point IV: Boston emerged from the third quarter with a six-point lead, but Wade took over in the fourth quarter by scoring 17 of Miami's first 22 points in the period -- all in a 5:49 span -- while opening a 93-82 advantage with 6:11 to play.
Stat of the game: While both teams struggled at the charity stripe, Boston connected on a mere 16-of-27 attempts (59.3 percent) and both Allen and Garnett combined to miss the team's final five freebies.
Unsung hero: Richardson and Michael Beasley combined for 35 points, finally providing Wade with some assistance. If not for the help of the supporting cast, Wade's big-time output might have meant nothing.
What it means: The Heat remain on life support, but have forced the series back to Boston with the Celtics holding a 3-1 series lead. Boston is left kicking itself after rallying from big deficits throughout the game, but fumbling away the game both early and late.