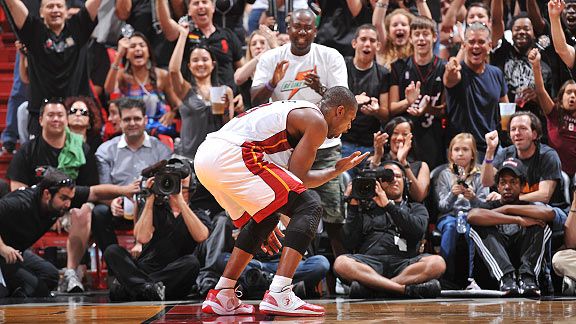 Jesse D. Garrabrant/NBAE/Getty Images
With their season on the line, the Heat turned to Dwyane Wade (46 points) to get past the Celtics.MIAMI -- A collection of postgame news and notes after the Miami Heat defeated the Boston Celtics in Game 4 of an Eastern Conference quarterfinal series Sunday at AmericanAirlines Arena:
The rundown (a quick look at postgame headlines)
* Celtics couldn't cool Wade's hot hand
* Rondo: We didn't get the job done
* Ray Allen: Sometimes it's just unlucky
Celtics couldn't cool Wade's hot hand
With Dwyane Wade positioned to test the free-agent market this summer, Sunday's game at AmericanAirlines Arena might have been his final one in a Heat home uniform. While fans held up signs pleading with their superstar to stay in Miami, Wade, at the very least, gave them one more for the scrapbook.
Wade poured in a career playoff-high 46 points while lifting the Heat to victory and avoiding a first-round sweep. He connected on 16-of-24 attempts, including 5-of-7 shooting from 3-point land. He added 5 rebounds, 5 assists and 2 steals over 43:25 of cramp-free action.
The Celtics, who had done a decent job at least containing Wade over the first three games, had absolutely no answer for him Sunday.
"We have to defend him better, obviously," said Rivers. "We talked about it at halftime, getting into his body. He was making 3's. Give him credit, Wade was phenomenal. We have to do something about it. We have to defend him better. Listen, he's hurt us this entire series and we just have to do a better job somehow."
Simply double- or even triple-teaming him wasn't the answer Sunday.
"We started doubling him late, just trying to get the ball out of his hands," said Celtics captain Paul Pierce. "He was coming down, stepping to that 3-point shot -- a shot that we would normally give him on a night-in, night-out basis -- and once he started hitting it, it was difficult to really guard him because he is known for his driving and getting to the hoop. When he's hitting 3-pointers like that, he's tough to guard.
"The way he played tonight just basically willed his team to a victory. He just put it all on his shoulders. He did a good job of it."
Wade did benefit from an uptick in production from his supporting cast. Quentin Richardson scored 20 points (also doing damage from the outside by nailing 4-of-6 3-point attempts), while Michael Beasley chipped in 15 points. The other six players on Miami's roster combined for a mere 20 points.
"When any of us can get going and give Dwyane Wade some breathing room, it takes a lot of pressure off him," said Richardson, who went so far as to suggest Wade was a "superhero" in Sunday's game.
Added Heat coach Erik Spoelstra: "We don't take Dwyane for granted. Right now, when his back is against the wall, that's what I call utter defiance and stubbornness. It would have been so easy for us to just quit and lay down."
The Heat didn't. Now the series shifts back to Boston for Game 5 on Tuesday.
Said Wade: "Whenever your back's against the wall, something happens."
ESPN.com's Chris Sheridan has more about Wade's hot hand.
Rondo: We didn't get the job done
Had the Celtics found a way to win Sunday's game, it's likely Rajon Rondo would have been regarded as the hero.
Rondo scored a team-high 23 points on 9-of-17 shooting with 9 assists, 4 rebounds and 2 steals over 43:38 of high-energy ball. But he had a bit of a rough fourth quarter, connecting on just 1-of-5 shots and registering just one assist as Miami rallied behind Wade.
Rondo put a little too much behind a 7-foot runner with little more than two minutes to play in a four-point game, missing a bunny that really stung as Boston -- despite all its struggles -- looked for one more late-game surge.
"We just didn't get the job done," said Rondo. "We had our chances. We had some good looks down at the end, including myself. Give them credit.
"We obviously missed some shots we usually make. I missed a wide-open bunny. We got some good looks, we just didn't make the shots."
Rondo didn't sound concerned about the series getting extended and shifting back to Boston.
"It's not a big deal," he said. "We're still confident. We've got to come out and win on Tuesday."
Ray Allen: Sometimes it's just unlucky
Rondo was hardly alone in uncharacteristic lapses. The starters were sloppy with the ball (the starting five combined for 14 of the team's 16 turnovers), the bench provided little in the way of aid (a five-man bench contributed 20 points on 5-of-14 shooting with seven rebounds and an assist over a combined 58:36), and everyone missed free throws (the Celtics finished 16-of-27 at the stripe).
Ray Allen and Kevin Garnett combined to miss five straight freebies in the final minutes to ensure Boston's defeat.
Allen, who entered Game 3 having made 37 straight freebies before missing a pair in Boston's 100-98 victory, missed three straight free throws, which is virtually unheard of for a player that averaged 91.3 percent shooting at the free throw line this season, and 89.4 percent for his career.
"I felt like I had a bad rhythm," said Allen. "The ball just looks on line and it catches a bad part of the rim. I look at it as a fluke. Sometimes it's just unlucky. I'll get back in [the gym] and a shoot a couple hundred more."