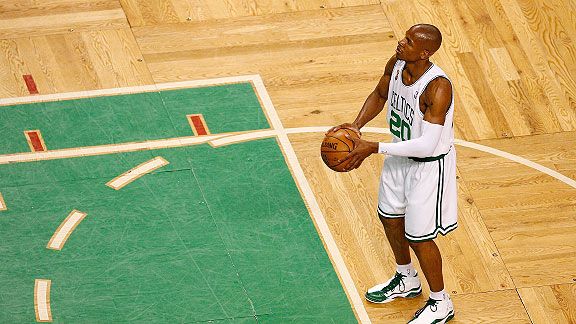 Kevin C. Cox/Getty Images
It wasn't a charity stripe for Ray Allen Sunday vs. the Heat.MIAMI -- Exactly how much of an oddity was it for Celtics guard Ray Allen to miss three consecutive free throws in Boston's Game 4 loss to Miami Sunday? Consider the following:
* In 1,022 career regular-season games, Allen has missed three free throws or more on just 12 occasions.

* Allen's career high for missed free throws is four, bricking a quartet at the charity stripe on April 15, 1998 (9 of 13) and Dec. 26, 2006 (4 of 8).

* Allen hasn't missed three free throws in a game since Feb. 10, 2007, when, as a member of the Seattle Supersonics, he connected on 10 of 13 attempts while scoring 29 points in 114-93 loss to the Kings.

* Of the 81 playoff games he's appeared in, Allen has missed three free throws in just one other game: May 17, 2005, when the Sonics met the Spurs. It was also the last time he missed three consecutive free throws in a game.

* Allen is a career 89.4 percent free-throw shooter and that number actually jumps up to 90.1 percent in the postseason.
On Sunday, Allen missed his final three attempts at the stripe after Boston closed within four with little more than two minutes to play. He chalked it up to bad luck.
"I felt like I had a bad rhythm," said Allen. "The ball just looks on line and it catches a bad part of the rim. I look at it as a fluke. Sometimes it's just unlucky. I'll get back in [the gym] and a shoot a couple hundred more."
Allen discussed the pressure of playoff free throws

in a May issue of ESPN the Magazine.
"It's the most pressure-filled situation any of us can be in," says Celtics guard Ray Allen, one of the league's rare sharpshooters whose career free throw percentage is actually higher in the playoffs (90.4 percent) than the regular season (89.4 percent). "It's something we've done over and over, but there's no duplicate experience in the gym. Making 100 in a row in practice, which most guys have done, isn't the same as making two in a playoff game."
Later, Allen detailed the increased pressure that even teammates feel for the shooter.
"Everyone around you is feeling the anxiety, so you don't want to look at anybody's face," says Allen. "Your teammates' faces are saying, 'I'm glad it's you and not me.' You don't want to look at the lady in the stands biting her fingernails, either. The intensity is so great you sometimes forget your routine."