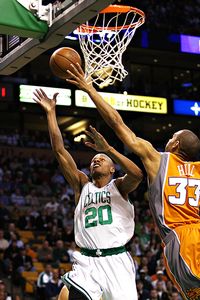 Elsa/Getty Images
Grant Hill and Ray Allen together on the court.Celtics guard Ray Allen finished third in the voting for this year's NBA Sportsmanship Award.
Phoenix's Grant Hill is the recipient of the Joe Dumars Trophy presented to the 2009-10 NBA Sportsmanship Award
winner. Hill registered 2,485 total points thanks in large part to 96 first-place votes from the 315 ballots submitted by NBA players. Denver's Chauncey Billups finished second with 2,155 votes, while Allen tallied 1,983 votes.
Allen was one of six players to win the divisional award, making them finalists for the league-wide honor. Allen won the award in 2002-03 as a member of the Seattle Supersonics.
The complete voting from this year's award and previous winners are after the jump.
2009-10 NBA Sportsmanship Award totals
Player, Team1st2nd3rd4th5th6th Points
Grant Hill, Phoenix9688474522172485
Chauncey Billups, Denver7948645335362155
Ray Allen, Boston4872633743521983
Antawn Jamison, Cleveland4543677253351905
Al Horford, Atlanta1337496890581487
Luis Scola, Houston34272540721171325
Inaugural: Joe Dumars (1996)
1996-1997: Terrell Brandon, Cleveland
1997-1998: Avery Johnson, San Antonio
1998-1999: Hersey Hawkins, Seattle
1999-2000: Eric Snow, Philadelphia
2000-2001: David Robinson, San Antonio
2001-2002: Steve Smith, San Antonio
2002-2003: Ray Allen, Seattle
2003-2004: P.J. Brown, New Orleans
2004-2005: Grant Hill, Orlando
2005-2006: Elton Brand, Los Angeles Clippers
2006-2007: Luol Deng, Chicago
2007-2008: Grant Hill, Phoenix
2008-2009: Chauncey Billups, Denver
2009-2010: Grant Hill, Phoenix