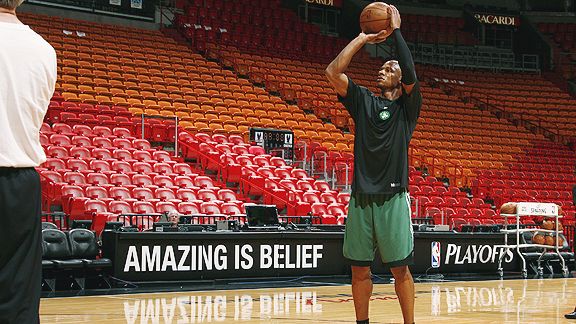 Issac Baldizon/NBAE/Getty Images
Ray Allen gets in free throw work.WALTHAM, Mass. -- Celtics guard Ray Allen spent a three-hour plane ride from Miami to Boston Sunday night reflecting on each of the three free throws he missed in the waning moments of Boston's Game 4 loss to the Heat.
When the plane touched down at Hanscom Field in Bedford, Allen gave a fleeting thought to going straight to the team's practice facility in Waltham to work through a rare hiccup in his charity stripe game.
"I wanted to come in when we landed, but I hadn't seen my family in a couple days," said Allen. "I got in here [Monday] and got plenty of free throws up."
Just how many did he get up? According to Allen, he shot 150 freebies Monday and connected on all but five.
Like Allen, the Celtics convened Monday at the Sports Authority Training Center eager to rinse the bad taste left by Sunday's loss.
From an inability to slow Miami superstar Dwyane Wade, to carelessness with the ball, to missed free throws, it was no surprise the Celtics spent an hour alone in film review pointing out all of their mistakes.
What had to bug the Celtics was that, after three stellar performances to start the postseason -- games in which they looked a lot like the team that started the year 23-5 and were labeled championship contenders -- Boston reverted, even if just momentarily, to the sloppy and inconsistent team that went 27-27 to close out the regular season.
The Celtics were eager to prove Sunday was simply a fluke. Just like those missed free throws.
"I don't think about bad old stuff, you try to put those things out of your mind," said Allen. "I've missed plenty of free throws. That's part of the game. But it's like when you lose a game, you hate that feeling when you lose, so you don't want that feeling too often."
Click HERE to read the full story.