BOSTON -- A collection of pregame news and notes before the Boston Celtics host the Miami Heat in Game 5 of an Eastern Conference quarterfinal series at the TD Garden:
The rundown (a quick look at pregame headlines)
* Big Baby sparks chatter about taking charges
* Stopping Wade (and supporting cast) remains hot topic
Big Baby sparks chatter about taking charges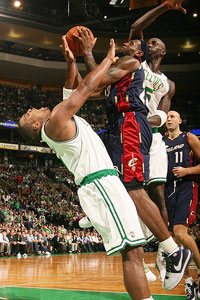 Nathaniel S. Butler/NBAE/Getty
Glen Davis finished second on the team in charges taken this season.Celtics coach Doc Rivers stated the obvious when he noted that Glen Davis doesn't have a lot of hops. Fortunately, Big Baby tends to make up for his inability to get off the ground, but often tumbling to it.
Davis finished second on the team in charges taken this year behind only Paul Pierce (and averaged out, based on games played, the two were nearly identical). While he might not block a lot of shots, Davis adds to his on-court value by drawing charges that go as turnovers in the stat book.
It's an indispensable part of Davis' game and, while only recently being tracked as a statistic by sites like HoopData.com, the effort isn't lost on teammates despite a true tangible measurement.
"Taking charges is a talent. It's something we don't talk about. It's not a stat, but it should be a real stat," said Ray Allen. "[James] Posey was great at it, Glen's great at it and being in position. It should be [an official] stat. If I have someone take a charge, I get a turnover and the other person -- not that he needs it because they get the ball -- but it should be a stat."
The discussion led to some humorous tales from both Davis and Allen about taking charges.
Joked Allen: "Have you ever seen me take a charge? You know the answer."
He elaborated on his lack of taking charges -- even if HoopData's statistics suggest he's actually decent at drawing contact with 14 charges taken this season.
"If I have to recall, going back to my younger years, I guess I'm a little jaded -- I've been spooked off taking charges," said Allen. "My first year in the NBA, Otis Thorpe came down the lane with a knee. He came about 100 miles per hour and he put his knee in my chest. The next time I saw him, I got out of his way."
Even Davis wasn't keen on taking charges before he arrived in Boston.
"I never wanted to take a charge," said Davis. "I grew up watching [Shaquille O'Neal], and I used to see Vlade Divac take them and I used to think, 'Come on, man, you're flopping.' But now, since I'm here in the NBA, I don't jump as high as a lot of players do. I don't move as quick or fast as a lot of players do, so I have to use a lot of things to my advantage during a game.
"That's the funny thing about it, flopping and taking a charge, it's all together. If he runs at me, he's going to the lane, I can just stand there. He can run at me and I just stand there and I'm not going to move. I can do that. I'm big enough to do that."
Stopping Wade and supporting cast remains hot topic
After Dwyane Wade's 46-point outburst in Sunday's Game 4, the Celtics have been peppered with the same question they heard before this series even started: How do you stop him?
Boston's answer is two-pronged: Wade can have 46 points, so long as 1) He isn't shooting 66.7 percent from the floor and 2) His supporting cast isn't also putting up big numbers, both of which occurred in Game 4.
"It's one thing when D-Wade scores, but when other players score and have big impact, we look at that," said Davis. "We have to try to figure out ways to slow D-Wade down, but also stop the people around him. We didn't do a good job of that [in Game 4] and that's why we lost the game."
Added Rivers: "We have to guard all of them, but it'd be nice if we did a better job on Dwyane. He's been amazing, but the 46 points, didn't bother me as much as the 67-percent shooting. What you can't do is overdo it and take your eyes off everyone else. Then everyone else gets involved."