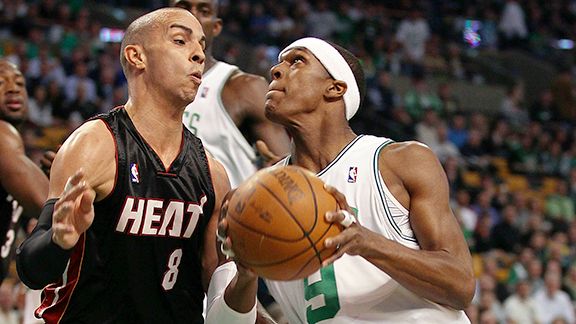 Elsa/Getty Images
Rajon Rondo and the Celtics dispatched the Heat with a Game 5 triumph.BOSTON -- Instant reaction after the Boston Celtics posted a 96-86 triumph over the Miami Heat Tuesday night in Game 5 of an Eastern Conference quarterfinal series at the TD Garden. Boston advances to the conference semifinals after winning the best-of-seven series, 4 games to 1.
How the game was won:Ray Allen scored a team-high 24 points on 9-of-15 shooting with five 3-pointers, while his Big Three brethren -- Paul Pierce (21 points) and Kevin Garnett (14 points) -- guided the Celtics to victory while logging hefty minutes. Dwyane Wade scored a game-high 31 points on 10-of-24 shooting, but once again his supporting cast couldn't offer assistance.
Turning point I: Down one with 3:51 to play in the first quarter, Paul Pierce sparked a brief 7-0 run with a 3-pointer and driving layup on back-to-back possessions. Kendrick Perkins followed with an emphatic slam that ended with him howling at Michael Beasley (who missed trying to swat the jam from behind) and put Boston out front by six. That lead would jump to eight before the end of the first quarter and to 10 at halftime.
Turning point II: The Celtics got hot from behind the arc at the start of the third quarter and Ry Allen's trio of 3-pointers helped push Boston's lead to 21 at 67-46 with under seven minutes to play in the frame. The Heat astoundingly cut that lead to six before the end of the frame.
Turning point III: The Heat rallied within three, but Boston managed to keep them at arm's length. Clinging to a 5-point lead, the Big Three showcased their vintage selves as Allen drilled a 3-pointer, KG followed with a 17-foot jumper, and Paul Pierce completed a slo-motion, hop-step layup to push the lead to 86-76 with 6:33 to go, essentially sealing the triumph.
Stat of the game: Boston connected on 7-of-12 3-point attempts, with Allen and Pierce combining for the makes (and all but two attempts).
Unsung hero: Outside of an appearance from the Ticket Stub in Game 2, Glen Davis has had a quiet series. But whether it was his energy on the glass, taking charges, or coming up with a timely bucket (like his three-point play in a four-point game with 9:29 to go). Davis finished with seven points, three rebounds, two assists, and two steals over 24 minutes.
What it means: With the Cavaliers out front with a chance to finish off the Bulls in Game 5 of that series Tuesday night, the Celtics were poised to travel to Cleveland for Game 1 of an Eastern Conference semifinal series set to begin Saturday evening at Quicken Loans Arena. The Celtics topped the Cavaliers in a seven-game series during the conference semis en route to claiming Banner 17 in 2008. The two teams split the season series, two games apiece, each team stealing a road game.