BOSTON -- A collection of postgame news and notes after the Boston Celtics eliminated the Miami Heat from an Eastern Conference quarterfinal series with a victory in Game 5 Tuesday night at the TD Garden:
The rundown (a quick look at postgame headlines)
* C's win in 5 games; Now what do they do?
* Wade's uncertain future the main story line for Heat
* Loose balls: Rondo felt sick; Beasley's sickly play
C's win in 5 games; Now what do they do?
The Celtics competed in six playoff series over the previous two seasons and all six went to at least six games. Coach Doc Rivers admitted he didn't know exactly how to feel after wrapping a series in just five games.
Boston hadn't won a best-of-seven series in under six games since topping the Detroit Pistons, 4-1, in the 2002 conference semifinals. The Celtics plan to take Wednesday off, then get back on the practice floor Thursday afternoon to begin preparation for Saturday's Game 1 of the 2010 conference semifinals in Cleveland.
"I don't know what this feels like," admitted Rivers. "I'm not used to this. I just know it's nice to get a day off tomorrow, because we need one... But it is nice to take care of business and that was great. Only I was a little disappointed in us [letting a 21-point lead slip to three at] the end of the third and fourth [quarters], because I thought it was our focus. We can't do that. It's very dangerous. We got away with it tonight."
Beyond making things a little too close for comfort, Ray Allen actually found positives in the way the team bounced back from both a Game 4 loss and a near collapse in Game 5.
"The last two years we've gone to Game 7 in the first round and it can wear on you," said Allen. "This first round we were tested defensively. Offensively, I thought we were solid and consistent throughout, for the most part. Throughout the series, of course, we hit adversity, but I'm glad that we did take care of business in five. Yeah, we would have loved to do it in four down in their building, but just to have the resiliency bouncing back tonight from the Game 4 loss down there. It will only be a struggle from here on in."
Captain Paul Pierce noted the team would have preferred to close out Miami on Sunday, but also found a silver lining.
"It feels good that we were finally able to close out a team earlier," said Pierce. "We wish we could have done it in four, but maybe we needed a little bump in the road to kind of wake us up. [Now the Celtics] get a couple days of rest before we move on to the next round, so I am glad with the way we played throughout the series. I thought we really saw the sense of urgency throughout the whole series and I am happy with the win."
Added Garnett: "Rest is always good. Any time you get a chance to rest knick-knack injuries, it's always a good thing."
Wade's uncertain future the main story line for Heat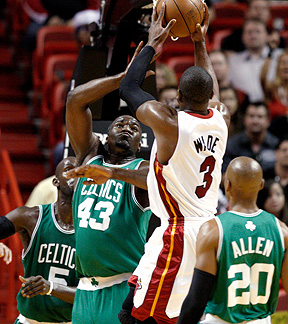 AP Photo/J Pat Carter
Was this Dwyane Wade's final game in a Miami uniform?Heat guard Dwyane Wade offered no further hints about whether he'd be back in Miami as he prepares to test the free-agent market this summer.
"I can't predict the future," said Wade. "It's going to be a very important summer, it's going to be a busy summer, but, right now, I still got to get this out of my system first. I'm a good sportsman, but I don't take losing well. So it's going to take a while to get over this, and then I'll start pondering my future. I think I've said enough of assurance of where my mind state is. I don't think I have to say much more. The thing I have to do now is take time and make the best decision for my family."
Wade did admit the uncertainty surrounding the entire team made for an odd feeling in the postgame locker room.
"It's tough, any time you lose, right after it's tough," said Wade."It's quiet. You never expect for your season to end. Whether you're swept or you lose in the championship. No matter what you never expect for the end. It's just quiet. We'll have more time to talk on the plane and then [Wednesday] at our exit meeting, we'll have more time to reflect and look back and talk.
"Myself, [Udonis Haslem] and [Dorell Wright], who have been here, for at least six years with D-Wright and seven years with U-D, it's tough. Not knowing the possibilities, if you guys are gonna be together again. You just thank them guys. Right now, as we say every year, 'You know I love you guys'. We'll talk in the summer. We don't know what's going to happen, but we're family no matter what the circumstances is."
Asked again about a potential return to Miami, Wade reiterated his prior stance of a wait-and-see approach.
"Like I said before the playoffs started, that this playoff run and drive have no indication on my decision going forward," said Wade. "This will be my last first-round exit for a while, I can tell you that. I'm looking forward to continuing to build and being with some great players next year -- continuing to beef up our roster. Like I said, it's tough losing in the first round and, as a competitor like I am, I gotta hold back my anger. But I look and understand that these moments make you grow. These moments show the person you are. You continue to understand that everything is not going to be great. There's gonna be times where you gotta go through the struggles to get to where you want. This is just making me stronger. When that opportunity comes that I can once again compete for a championship I'll be ready."
Wade isn't the only one whose future is uncertain.
Said Haslem: "That's a business decision. That's up to the Heat and my agent, who will handle that. As far as I'm concerned, I want to be here, but they have to want me here. That's where the business side comes into it."
Said Michael Beasley: ""Honestly, I don't know. There's only two players on contract for next year. Free agency, trades can happen. I think it's going to be a hectic summer for the league, not just the Miami Heat."
Loose balls: Rondo felt sick; Beasley's sickly play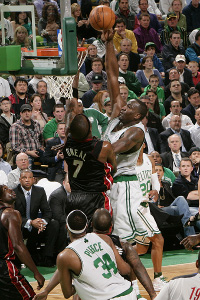 Nathaniel S. Butler/NBAE/Getty
Celtics captain pointed to Kendrick Perkins as one unsung hero in this series.* Celtics point guard Rajon Rondo, who battled flu-like symptoms at the start of the series, was once again under the weather Tuesday. Once again, you would have hardly noticed after he registered 16 points, 12 assists, 8 rebounds, and 4 steals over 44 minutes.
"I mean, he said before the game he felt awful, so whenever he does that, I just play him the whole game," joked Rivers. "I figure punish him.
"But he was terrific. We just needed him on the floor. When they made their run and they tried to go zone, we put shooters on the floor, but then we didn't have a facilitator with Tony [Allen]. So that's when we went back to Rondo and he got guys the ball in the right spot."
* Beasley started the game at power forward, but missed all three shots he attempted in the first half, logging two points, three rebounds, and three steals over 13:35. He didn't play in the second half as coach Erik Spoelstra benched him in favor of Udonis Haslem.
"It was coach's decision, he went with the veteran lineup, that's pretty much all I know," said Beasley. "I stayed ready, you have to, you don't know when you are going to go in. I stayed ready, I was hoping I was going to go in, but it was coach's decision, he liked the lineup and he stuck with it."
Beasley did admit he had a rather challenging series.
"Me? Poor," Beasley said when asked to sum up the series. "That's pretty much it. I think I played terribly this series. As a team, we fought, we fought, we just couldn't pull through. It's over, I'm putting it behind me, I'm just going to try to get better."
Said Wade: "No knock against Michael, it's just not his time. So he's gotta continue to stay with it, continue to work, continue to believe. That's all he can do."
* Asked for unsung hero nominations, Pierce saved his highest praise for Tony Allen.
"I think Perk didn't really get enough credit for the defense that he played on Jermaine [O'Neal]," said Pierce. "Ray coming out of shooting slump after the first game and really just playing great throughout the series and really making Wade work. But also Tony Allen. I think he really made Wade work for the things that he got. I commend him how he came in, he was the key to our Game 1. The way he came in and scored. He played tough defense there in Game 1 and really set the tone for the series.I thought that he really played great, establishing himself in this rotation late in the season and here in the playoffs."