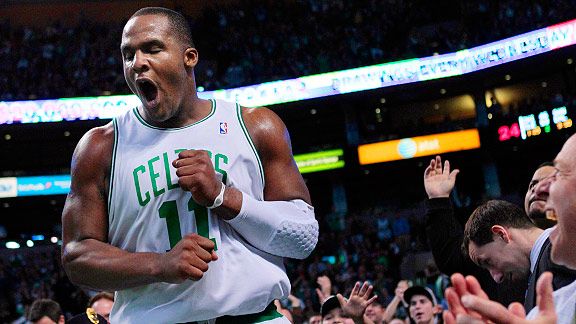 AP Photo/Elise Amendola
Glen Davis had reason to be excited after a big effort Tuesday in Game 5.BOSTON -- A glimpse at the ESPN stories from Boston's Game 5 victory over Miami Tuesday:
Forsberg: Davis leads the charge
When Doc Rivers spotted third-year forward Glen Davis at the Celtics' practice facility before Tuesday's Game 5, he greeted him with wide-eyed excitement and asked where he'd been. A bit perplexed, Davis said he'd been at the training facility all morning.

"Funny, I haven't seen you since Game 2," jabbed Rivers.

Davis, who totaled a mere six points (on just one shot) and five rebounds over Games 3 and 4, this after posting 23 points and eight rebounds in a spot start for Kevin Garnett in Game 2, knew his coach was trying to motivate him.

But Rivers wasn't done.

Later, when Davis went to leave for the afternoon, he popped his head back into his coach's office to say goodbye. This time Rivers had a musical pop quiz.

"I'm walking out and I thought the day was over with, but [Rivers] is sitting down eating his lunch and he's like, 'Hey, Baby, do you know who Milli Vanilli is?'" recalled Davis. "I was like, 'Yeah, the lip-synchers.' And Doc was like, 'Yeah, but they were also one-hit wonders. Just think about it.'

"I left and I'm thinking, 'OK, he's trying to get me going.' Doc has his ways of motivating people."
Click HERE to read the full story.
May: C's pulled out all the stops
Had Danny Ainge and Doc Rivers submitted themselves to interrogations prior to the start of the playoffs, they would have had more explaining to do than the Goldman Sachs fellows on Capitol Hill.

AP Photo/Elise Amendola

KG pulls down a rebound in Game 5.'What about the rebounding? What about the turnovers? What about the pathetic home record? What about the iffy health of Kevin Garnett? What about the uninspiring finish to a rather uninspiring regular season? Where has the defense been?

And, finally, what reason can either of you give us to think that, based upon what we've all seen, the Celtics will make it out of the first round, let alone make any kind of respectable run?

Well, we got the answer -- and it sure wasn't based on anything we've seen in months. The Celtics were a .500 team over the final 54 games of the exhibition, er, regular season and it was fair to wonder what team was going to show up when the playoffs started. Would we get the one that lost to the Nets, Wizards, Grizzlies and Sixers at home? Or would we get the one that the players promised was certain to arrive, a committed, driven, experienced group understanding what was at stake and playing with the appropriate sense of urgency?

Ainge and Rivers let the players do the talking. They talked the talk, for sure. Just ask Quentin Richardson. But they also walked the walk.
Click HERE to read the full story.
Sheridan: Celtics ready for next challenge
By any measure, the Boston Celtics looked pretty darn good if you sum up their five-game body of work against the Miami Heat.

Getty Images, US Presswire

Celtics vs. Cavs in Round 2.Good, but not great.

And if they are going to put a scare into the Cleveland Cavaliers in the next round, the Celtics will need to perform at a sustained higher level -- a championship-caliber commodity that eluded them over the course of the first round.

With Ray Allen keeping up his torrid outside shooting and the defense finding a way to limit Dwyane Wade, the Celtics finished off the Miami Heat 96-86 Tuesday night to win their first-round series 4-1.

But did the Celtics discover enough positives about themselves that they can carry into the next round and capitalize on? Was this series a learning experience, or an exercise in shaking off the cobwebs that developed over their 27-27 finish to the regular season following their 23-5 start?

Kevin Garnett praised the team for its composure, but Doc Rivers wasn't all that thrilled with their repeated loss of focus. Paul Pierce and Rivers singled out Tony Allen for having a breakout performance that solidified his spot in the rotation, and Glen Davis was the recipient of some well-deserved kudos, too.

But there wasn't anyone saying anything complimentary regarding the three guys who were supposed to be the backbone of the second unit, Rasheed Wallace, Marquis Daniels and Nate Robinson, and the Celtics' own memories of their epic near-collapse in the teams' infamous "chippy" Easter Sunday game remain fresh.
Click HERE to read the full story.