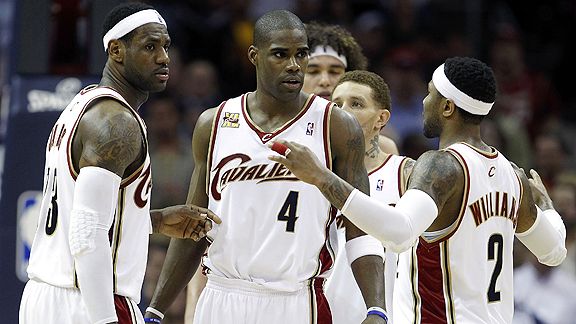 Gregory Shamus/Getty Images
This isn't the same Cavs team the Celtics saw in 2008.Following the 2008 championship season, the Celtics held a DVD release party at the Legends Club inside the TD Garden. As his teammates mingled in the VIP area, Celtics captain Paul Pierce sat alone at the bar, a glass of red wine in front of him, fixated on the Celtics-Cavaliers highlights playing on a screen in front of him.
Pierce could only shake his head as he watched himself and James battle -- often in dramatic slow-motion -- back-and-forth throughout the series.
"Man, LeBron's a beast," Pierce sighed at the time.
Pierce should expect more of the same this time around and he's well aware of the challenge that awaits.
"We know this is going to be a tough series -- a really, really tough series," said Pierce. "You've got LeBron James -- the best player in the NBA right now. He is about to receive another MVP, a two-time MVP. It's a huge mountain we're going to have to climb, but I think this team is ready to face the test. We are playing as well as we have been playing all season long, and we are ready."
But is James ready?
Click HERE to read the full story.