WALTHAM, Mass. -- For all the jokes about how old his team is and their need for rest, Celtics coach Doc Rivers admitted he's no fan of a second-round schedule, which features a lengthy four-day break before Cleveland comes to Boston for Game 3.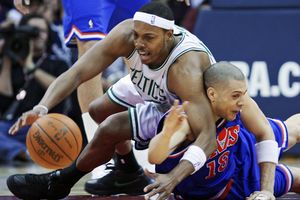 AP Photo/Mark Duncan
Paul Pierce and the aging Celtics don't need the type of breaks the schedule in Round 2 will offer."I don't like this one," said Rivers. "I like the first-round schedule. I don't like this break, it's too long. My God, [his players] can only listen to me for a day and a half. That's a long break, especially if you have momentum. If you win one or two games on the road, you want to play again right away. But it is what it is."
Rivers tried to find a bright spot, noting, "It can't hurt you. Rest can never hurt this team."
But he couldn't get over the fact that the series will be nearly a week old before Boston plays its first game on home turf. Regardless of how the series stands, he knows his players will be itching to get back to action.
"You go play two there, come back from two -- even if it will feel like a week apart," Rivers said while discussing homecourt advantage. This is the first of eight series since the Big Three united that will feature Boston opening on the road.
"I don't know if one team has an advantage. The home team probably does, because it gives them the opportunity to get off to a great start. Obviously, if they hold serve, even though we haven't played a home game, being up 2-0, is being up 2-0. It's big."