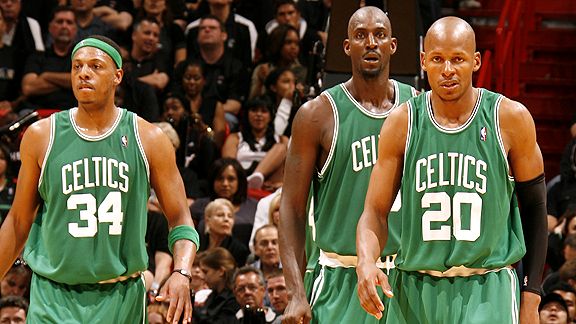 Issac Baldizon/NBAE via Getty Images
Could this Cleveland series be the last hurrah for the Big Three?With free agency possibly looming for Ray Allen and Paul Pierce, the Cavaliers series could be the end of the line for the Big Three, not to mention coach Doc Rivers. Here's more from colleague Peter May:
When the Boston Celtics take the floor for Game 1 of their Eastern Conference semifinal matchup with the Cleveland Cavaliers, they will be doing so (A) as consensus underdogs for the first time in three years and (B) without home-court advantage for the first time in three years.

Which begs the following: Will this also be the last time we see the new Big Three together?

Regardless of what happens in the series, the times they are indeed a-changin' in Celtic Nation. Ray Allen will become a free agent. Doc Rivers may decide he's had enough. Paul Pierce could become a free agent if he opts out of his current deal. Tony Allen, Nate Robinson and Marquis Daniels also will be free agents along with Brian Scalabrine, Michael Finley and Shelden Williams. Daniels and Robinson were supposed to be key reserves, but Rivers clearly has lost faith in both of them and their futures in Boston look dim.

The only players with firm commitments for 2010-11 are Kevin Garnett, Kendrick Perkins, Rajon Rondo, Glen Davis and, ahem, Rasheed Wallace.

Is this the beginning of the end for Rivers and the Big Three? Will they be just a memory -- albeit a pleasant one for most -- in just two weeks' time? We know this much: The parties may go their separate ways this summer but starting Saturday, they are still together and, they say, as determined and motivated as ever. We'll have to see if that's enough to keep them together a little while longer.
Click HERE to read the full story.