CLEVELAND -- A collection of postgame notes after the Boston Celtics defeated the Cleveland Cavaliers in Game 2 of an Eastern Conference semifinal series at Quicken Loans Arena:
The rundown (a quick look at postgame headlines)
* Rondo one-ups the MVP as C's even series
* Celtics were ready when Cavs made late run
* Loose balls: Establishing post game; Embarrassing for Cavs?
Rondo one-ups the MVP as C's even series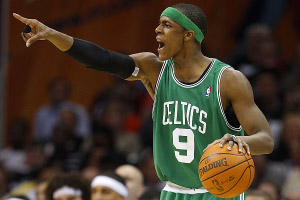 Gregory Shamus/Getty Images
Rajon Rondo directed the Celtics offense to perfection in Game 2, dishing out 19 assists in a crucial win.Celtics point guard Rajon Rondo didn't just outplay the league MVP Monday night, he outplayed the league MVP and the MVP of Game 1 of this series.
Rondo scored 13 points and matched a career and playoff high with 19 assists to pace the Celtics past the Cavaliers, drawing their best-of-seven series even as it shifts to Boston.
According to the wizards at ESPN Stats and Information, Rondo single-handedly accounted for 59 of Boston's 104 points, his 19 assists leading to 46 points. LeBron James, who accepted his second consecutive MVP award Tuesday night, and Mo Williams, who took over Game 1 with a furious third-quarter outburst, combined to account for 53 points for the Cavaliers.
James heaped praise on Rondo, even after Cleveland's Game 1 victory Saturday, but only foreshadowed Monday's outburst when he noted, "He poses a threat to our interior because he's so fast and gets into our interior. He breaks our interior down where he's able to get a layup or kick out for a 3-pointer. We have to do a better job of trying to keep him out of the paint."
It didn't happen. Many wondered how Rondo would respond after enduring a rough foul from Shaquille O'Neal in the fourth quarter of Game 1. Celtics coach Doc Rivers called it an "assassination." On Monday, it was Rondo producing the carnage.
"He just comes off multiple pick-and-rolls and we have to do a better job of staying attached to him," said O'Neal. "We have to stay in front of him and stay attached to their shooters. He's a great player."
Added Antawn Jamison: "He's doing a great job of getting into the paint. We have to do a better job containing him. You're not going to be able to stop him for 48 minutes, but it's to the point where he's controlling the game from the start to finish. We have to make him a jump shooter."
It took Rondo a mere 32:24 to tie his career high of 19 assists. This after needing 57:30 to establish the mark in a triple-overtime victory over the Chicago Bulls in Game 6 of last year's first-round playoff series.
And while he didn't register another assist over his final 11:44 on the court, Rondo did produce a timely fourth-quarter bucket to stem Cleveland's rally from a 23-point deficit (the Cavs got it to 10 before Boston applied the brakes).
"I give credit to my teammates," said Rondo. "They made the shots. They tried to get me easy looks, as easy as possible. Ray made shots tonight -- it was a team effort. Perk finished at the rim, KG made shots. We mixed it up offensively, inside and out. Sometimes we post to Kevin, then whenever they were sleeping on the weak side, we had pin-downs for Paul and Ray."
While the Big Three often get the lion's share of the credit and Paul Pierce is the captain, it's clear this team is fueled by Rondo this postseason.
"I call him our [Red Sox catcher Jason] Varitek," said Rivers. "I thought he called great balls and strikes, if you want to put it that way."
Celtics were ready when Cavs made run
If the Celtics learned anything from fumbling away Saturday's Game 1, it was that Cleveland was going to make a run and they tried their best to brace for it.
But like boarding up windows as the storm comes to town, sometimes it simply isn't enough to hold. And the Cavaliers trimmed a 23-point deficit to 10 with 3:42 to play. But it never got to single digits -- thanks in part to missed Cavs free throws -- and Boston came up with enough stops to ensure things didn't get too dicey.
"I don't know if we handled it very well, honestly," said Rivers. "But we got enough stops. We were stuck on 91 points for an hour, it felt like. I just kept telling our guys, 'The clock is still moving,' and they're not really scoring, we're still getting stops."
Said Pierce: "You knew they were going to make a run. You can't expect calls on the road and everything is pretty much against us, and that's the way it should be. When you are playing against the best team in the NBA and against the MVP in his house, it's going to be tough. And you have to expect them to make a run. I was happy with the way we responded."
Loose balls: Establishing the post game; Embarrassing for Cavs?
* The Celtics haven't hidden the fact that they're attempting to establish an inside presence in this series, identifying a favorable matchup with Kevin Garnett locked with Jamison. And while Garnett connected on just 8-of-21 attempts Monday, expect Boston to keep feeding the ball inside to its bigs.
"It's the whole key," said Rivers. "Not only outside, but the drives as well. Establishing Kevin -- he was going way too fast in the first half -- but he still was a concern on the post. I kept telling our coaches, 'I don't care if he's not converting right now.' They're trapping, they're worried about him down there, and if we keep hammering down there, eventually the outside would open up for us and that's what happened."
Said Garnett: "I have to be a lot more patient in the post. I know they are starting to double me and I'm a decent passer, so I've just got to wait. But at the same time, I have to be aggressive. 'Sheed was aggressive in the post. We got Paul to be aggressive. Everybody who played tonight was aggressive, and that's how you have to beat this team."
* Asked if he was embarrassed by his team's play Monday, James wouldn't bite.
"I wouldn't go that far, those are pretty harsh words," James said. "I know we didn't play well. The third quarter was one of the worst quarters we have had this year, offensively and defensively. When you look at it at the end of the day, it's a series that is tied 1-1 with two really good teams. We are looking forward to Game 3."
Cleveland coach Mike Brown was decidedly more upset.
"I'm concerned," said Brown. "I'm concerned our defense was not there tonight. We tried to turn it up for a little bit and we got physical, and there was a sense of urgency in that fourth quarter for about three minutes, but we were down. We were down and we were trying to fight back into the game and we can't do that."