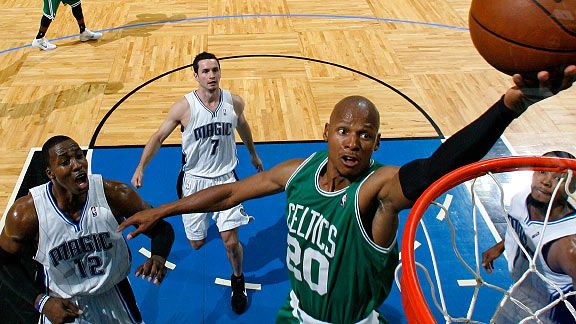 AP Photo/Gary Green
Ray Allen and the Celtics continue to soar in the postseason.ORLANDO -- Instant reaction after the Boston Celtics posted a 92-88 triumph over the Orlando Magic in Game 1 of the Eastern Conference Finals Sunday afternoon at Amway Arena:
How the game was won: The Celtics didn't register a field goal over the final 5:33 of play and scored just four points -- a pair of Paul Pierce free throws with 12.9 seconds remaining and two more from Ray Allen with 6.1 ticks to play -- but held off the late-surging Magic. Allen scored a team-high 25 points on 8-of-16 shooting, while Paul Pierce chipped in 22 while connecting on 6-of-8 attempts. The Celtics limited Orlando to 32 first-half points on 34.2 percent shooting (13 of 38 overall), then stretched their lead as high as 20 in the third quarter before stumbling their way to the finish line. Vince Carter (23 points) and Jameer Nelson (20 points) paced the Magic.
Turning point I: Nelson scored eight consecutive points for the Magic over little more than a 90-second span early in the third quarter to whittle Boston's once double-digit lead to three. Pierce promptly scored 10 points to fuel the Celtics on a 14-4 run, which featured a 12-0 burst that Pierce capped with a 19-foot jumper for a 62-44 lead with 5:43 to play in the third frame.
Turning point II: Even in the Orlando heat, the Celtics went ice cold from the floor late in the fourth quarter, enduring a scoreless streak of more than five minutes as the Magic rallied within two in the final minute. The Cardiac Celts, prone to the second-half collapses during the regular season, managed to pull it out when Rashard Lewis's 3-pointer in the final seconds was off the mark.
Stat of the game: The Celtics finished with a 21-10 advantage in assists, doing a phenomenal job limiting Orlando's ability to generate 3-pointers while swinging the ball around the perimeter.
Unsung hero: Boston's bench bigs -- Rasheed Wallace and Glen Davis -- both chipped in solid efforts. With Kendrick Perkins battling foul trouble, Wallace registered 13 points over 17 gritty minutes spent pushing and shoving with Dwight Howard. Meanwhile, Davis continues to play some of his best basketball in Orlando. Twice the Magic trimmed their deficit to 10 early in the fourth quarter, and twice Davis registered buckets around the basket to keep them at a safe distance.
What it means: Even if the stats tell us that 80.2 percent of Game 1 winners go on to win their best-of-seven series, the Celtics need look no further than their last-round triumph over Cleveland to know they can't lean on that statistic alone. Boston nearly crumbled late in the game and must focus on what it did so well in the first half moving forward to Tuesday's Game 2. Regardless, Boston has stolen homecourt advantage from the Magic and simply needs to take care of business at home to win this series. Of course, we all know that's easier said than done.