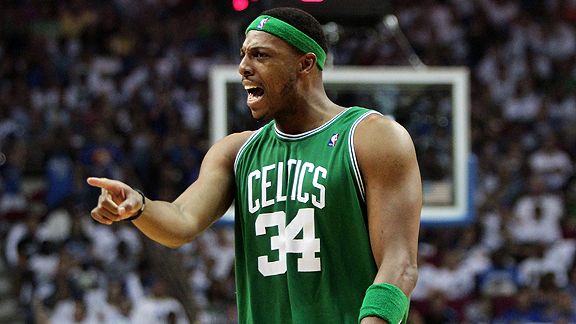 Doug Benc/Getty Images
Paul Pierce sparked Boston's third-quarter run against the Magic.ORLANDO -- A collection of postgame news and notes after the Boston Celtics defeated the Orlando Magic in Game 1 of the Eastern Conference Finals Sunday at Amway Arena:
The rundown (a quick look at postgame headlines)
* Pierce picks his spots and hits big shots
* Another quality postseason effort from 'Sheed
* Video: Perk & Baby get physical on Howard
Pierce picks his spots and hits big shots
The Magic had already challenged Paul Pierce a bit by putting Vince Carter on him (and moving the more sturdy Matt Barnes onto Ray Allen), but Pierce got another dose of motivation Sunday after a sloppy second quarter in which the Celtics failed to pull away from Orlando.
"I was a little upset with the way I played in the second quarter because I had more turnovers than shot attempts," said Pierce, who turned the ball over twice and did not attempt a shot. "The key for me is to stay aggressive. When the shot is there, take it. I thought I was passing up some shorts in the second quarter, so I wanted the shot if it was there in the third quarter."
The shots were there. Pierce scored 13 of his 22 points in the third frame, connecting on 4-of-5 attempts while fueling a run that helped Boston push its lead as high as 20 points in the frame. That cushion came in handy when the Celtics' offense fizzled late in the game, but Boston held on for the 92-88 triumph.
"From the start, Doc told me to be aggressive, from the meeting this morning," said Pierce. "I only got eight shots and I know I could have been a little more aggressive. But I try to do things within the framework of the team and pick my spots.
"I was able to get to the line, rebound the ball, and do other things to help us win."
Pierce added nine rebounds, five assists, two steals, and a block to his stat line. After Rivers stressed earlier in the postseason that the Celtics need more from Pierce on the glass, he continues to make himself a presence by hauling in long rebounds and chasing down 50/50 balls.
"The bigs and coach always talk about how the guards have to be able to come in and get the long rebounds," said Pierce. "Dwight is a load to box out, obviously, he's the league's leading rebounder. [Kendrick Perkins], he always says, 'I'm going to put a body on him.' Box him out and the guard has to come in and get the rebounds. I think we made a conscious effort in that."
Perkins gave rave reviews all around.
"I thought [Pierce] came out and he was attacking and he was aggressive," he said. "He was huge."
Another quality postseason effort from 'Sheed
Just a few days removed from his proclamation that he didn't come to Boston to play regular-season games, Rasheed Wallace's actions continue to confirm his brutally honest suggestion.
Wallace registered 13 points in 20:17 off the bench, and played a big role defensively in limiting Orlando's Dwight Howard. All of which led Rivers to use particularly lofty adjectives in regards to the 15th-year veteran's play.
"Rasheed was phenomenal defensively tonight," said Rivers. "He's been good in the playoffs for us and that's what we wanted from him when we signed him."
It took six months to deliver upon, but maybe that's better late than never.
"Because of the ups and downs, you had to remind yourself of that," Rivers said with a smile. "Everyone else was reminding me of what he wasn't doing. One thing I'll say about Rasheed and he said it throughout, 'It doesn't matter what I do in the regular season, I will be judged for what I do in the playoffs.' I didn't want him to take that literally throughout the season, but he did.
"But he's been terrific. He's a knowledgeable big who has a lot of game. I thought today, defensively, he did some old tricks that were terrific."
Those old tricks included getting Howard in a frothy lather as the two mixed it up around the basket. Wallace gave a shove here, a push there, and locked arms every now and again (which led to a double technical after one third-quarter dust-up).
Wallace is just happy with the win.
"That's what we came down here for, to definitely try to win that first one," said Wallace. "That's what we did. We played team defense, we played together, and we went out there and did it."
Video: Perk & Baby get physical on Howard
Perkins and Glen Davis joined forces with Wallace to keep Howard quiet throughout the night. After the game, they talked at length about being physical with him. Here's a snippet from each and check out the videos for more:
Perkins on defending Howard: "I just thought we played team defense the whole game," said Perkins. "Guys were helping each other. We made it tough on [Howard]. It is going to be a physical series. We are going to play physical and we know [Howard] is a physical guy, but we tried to play him hard and make it tough for him."
Davis on building momentum: "Momentum is everywhere, you can use momentum in so many different ways. But playing well, being focused, and playing hard, that's the most important thing -- playing with confidence as a team.