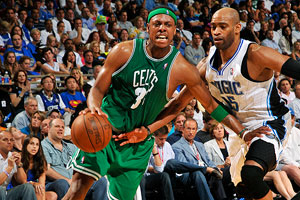 Fernando Medina/NBAE/Getty
Paul Pierce drives past Vince Carter in Game 1.ORLANDO -- Coming off a series in which he was often guarded by Cleveland's LeBron James -- he of NBA All-Defense first team fame -- it's fair to say Paul Pierce was going to have an easier time regardless of which Orlando defender he drew in the conference finals.
But the Magic might have only challenged the struggling Pierce when they decided to cover him with Vince Carter, who let's just say won't draw a lot of defensive highlights if you search his name on YouTube.
The results? Pierce went off for 22 points on 6-of-8 shooting, displaying aggressiveness previously lacking as he got to the rim and the free throw line in Sunday's Game 1 triumph. But the wizards at ESPN Stats and Information provide the real eyebrow-raising stats:
Against Cleveland, Pierce averaged 13.5 points on 34.5 percent shooting, including a mere 19 percent on isolation plays (most of which came against James). In fact, Pierce scored a mere 12 points on 27 isolation plays against the Cavaliers.
Against Orlando, Pierce scored nine points on five isolation plays in Game 1, connecting on 3-of-4 shots and not committing a turnover in those sequences. Nine of those points came on four plays against Carter.
For more on Pierce's night, hop HERE to read our postgame notes from Game 1.