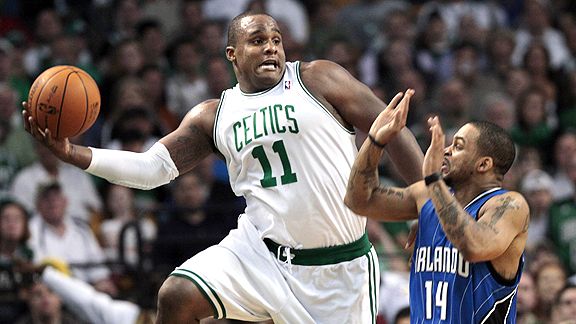 AP Photo/Elise Amendola
Glen Davis and the Celtics simply wanted it more than the Magic.BOSTON -- Instant reaction after the Boston Celtics posted a 94-71 triumph over the Orlando Magic in Game 3 of the Eastern Conference finals Saturday night at TD Garden:
How the game was won: Flashing back to last year's postseason, Glen Davis paced six Celtics in double figures with a game-high 17 points, while Paul Pierce added 15 points and nine rebounds as Boston steamrolled the Magic to take a commanding 3-0 series lead. Jameer Nelson and Vince Carter each registered 15 points to lead Orlando, which trailed by double digits for the final 39:25 of the game.
Turning point: Midway through the first quarter, the Celtics embarked on a 14-0 run, highlighted by a balanced output from the starting five (all but Rondo scored, but he fueled the attack from the point) to open a 21-6 lead with 2:04 to play in the first. The Magic didn't break double figures until the final minute of the quarter.
Turning point II: Boston's lead never dipped lower than 14 the rest of the night, but ballooned above 30 in the fourth quarter. The Celtics made it a party in the third quarter with a quick 8-0 burst that featured four points apiece from Kevin Garnett and Davis as the lead spiked to 25 with 3:35 to go in the third. Gino was on the JumboTron with 5:34 remaining in the game.
Stat of the game: The Celtics committed just nine turnovers and had just four after three quarters.
Unsung hero: Rasheed Wallace provided another of his "where has this been all year?" efforts by connecting on 4-of-6 shots, including a pair of 3-pointers, while chipping in 10 points and 4 rebounds over 17 minutes.
What it means: For the second time this postseason, the Celtics will be going for a sweep Monday. This time, however, they have the luxury of home court and seem to have the Magic all but ready for the golf course. With the crowd already chanting, "Beat LA!" a Celtics-Lakers matchup in the NBA Finals seems all but inevitable. But, as this building's other tenant recently showed, nothing is safe until that fourth win is achieved. That said, Boston is playing such inspired ball, it's hard to imagine this series shifting back to Orlando.