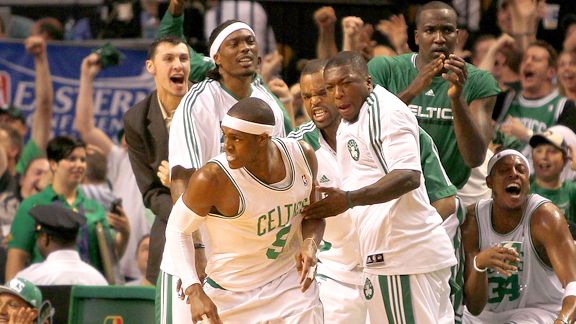 Jim Rogash/Getty Images
The Boston bench erupts after Rajon Rondo's diving steal/layup combination in the second quarter.BOSTON -- A trio of ESPN.com featured stories after the Boston Celtics defeated the Orlando Magic in Game 3 of the Eastern Conference finals Saturday night at TD Garden:
Hollinger: Rondo provides the Magic in Game 3
If there's one truth about Boston's unexpected playoff run this year, it's this: The Celtics have come at their opponents with so much effort, that by the end each opponent has been beaten emotionally as much as physically.

Saturday it was Orlando's turn to have its spirit broken, after Cleveland and Miami already submitted in the first two rounds. Yes, Boston won Game 3 going away, 94-71, to take a commanding 3-0 series lead in the best-of-seven Eastern Conference finals, but that barely scratches the surface of the real story: A frustrated Magic team had the fight taken out of them.

One play from the middle of the second quarter perhaps defines it best -- a play Kevin Garnett aptly called a "pure, I-want-it-more-than-you type of play."

After a deflected pass rolled into the backcourt, Orlando's Jason Williams trotted after it. Boston's Rajon Rondo trailed Williams, but he didn't trot, he flew. And when it appeared that wouldn't work, he launched into a full-out dive, snatching the ball from Williams's shoe tops while sprawling out on the floor.

"I wanted to make a play on the ball," said Rondo. "He had the angle on me so I decide to dive for it."

"I didn't think he could get to it," said Celtics coach Doc Rivers. "I don't think Jason Williams thought he could get to it, honestly. I don't know how he got it."
Click HERE to read the full story as part of today's Daily Dime.
Forsberg: Davis, Celtics not wanting for desire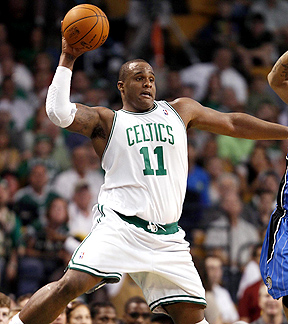 Winslow Townson/US Presswire
Glen Davis makes a save in Game 3.
There's no official metric for it and there likely never will be. But there's an unspoken statistical category in the NBA some have dubbed "WIM," an abbreviation for, "Wants it more."

This is WIM in a nutshell: A ball springs off the rim directly above two players. Both have an equal shot at it -- athletic prowess notwithstanding -- but only one player can come down with it.

The player who gets it? That's a tick in the WIM column. And it's no surprise that there's a strong correlation between WIMs and wins.

The Boston Celtics, as they have done throughout the Eastern Conference finals and the entire postseason, dominated the WIM category during Saturday's Game 3 matchup with the Orlando Magic.

From Rajon Rondo lunging through the legs of Jason Williams while forcing one of the most spectacular steals of the season to Glen Davis willing himself to every available offensive rebound to an unrelenting defense that made every necessary rotation for a full 48 minutes, the Celtics clearly wanted it more than the Magic. The result: a 94-71 triumph at TD Garden.

The Celtics lead the series 3-0. There's no arguing their dominance thus far. Simply put, they've wanted it more than Orlando since the opening tip last Sunday.

"We want it, we know we want it," said Davis, the unlikely source of a game-high 17 points in 24 minutes off the bench.
Click HERE to read the full story.
Sheridan: Magic feeble in latest loss to Celtics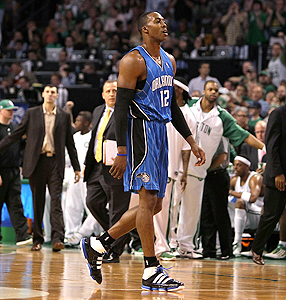 Jim Rogash/Getty Images
Dwight Howard walks off the court during Game 3.
The Eastern Conference finals did not come to an end Saturday night, but you'll be excused for extrapolating that they pretty much did. On the one hand we have an absolute machine of a team operating on all 12-cylinders (yes, we know that the most powerful engines are typically V-8s, but there are vehicles made by Rolls-Royce, Ferrari and others that ratchet it up another four cylinders), and on the other hand we have a team on the wrong end of a steamroller, having already been flattened into the pavement.

"They just riddled us," Magic coach Stan Van Gundy said, heaping the blame on himself for not having his team better prepared.

Where to begin?

Well, the beginning is about as good a place as any, because that was the only time all evening when what is turning into a joke of a series was not yet a laugher. And even then, things didn't stay close for long.

The Magic missed their first four shots, and it was 12-6 with 4:14 left in the quarter -- that's right, the Magic had six points by then, when the goofy smile Dwight Howard was wearing in the locker room before the game was wiped away.
Click HERE to read the full story.