WALTHAM, Mass. -- Celtics coach Doc Rivers suggested Sunday that reserve guard Tony Allen has been playing through ankle pain that left the team wondering if he'd even be available for Game 3.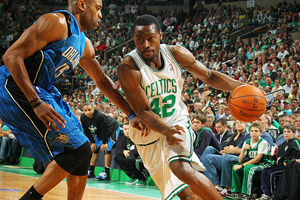 Nathaniel S. Butler/NBAE/Getty Images
Tony Allen is playing through ankle pain."Tony's ankle has been bothering him a lot, but he's playing through it," said Rivers.
Allen missed the first 20 games of the 2009-10 season with a sore right ankle after rushing himself back from offseason ankle surgery and aggravating the injury during the only preseason game he appeared in. Despite little expectations given his injuries woes in six seasons in Boston, Allen soon emerged as Boston's most reliable bench player, providing consistent defense and the occasional offensive spark.
Allen slowed his pregame workout before Game 2 in Orlando numerous times and appeared to be grimacing while grabbing at his right foot. Allen played only 15 minutes that night, his shortest outing since May 1.
Rivers noted the injury was so worrisome that the Celtics actually used Nate Robinson as the backup point guard for much of the three-day break between Games 2 and 3 because the team was uncertain if Allen could go Saturday night.
Allen played 18 minutes in Game 3, making the only shot he attempted, while registering four points, two assists, a steal, and a rebound. His deflection set into motion Rajon Rondo's spectacular hustle play that fueled the Celtics to a lopsided win and a 3-0 series lead.
Rivers continues to stress that bench players like Robinson can be thrust into action at any time and implores them to be ready.
"Our bench has been huge," said Rivers, who has leaned heavy on Allen, Glen Davis, and Rasheed Wallace, while using Michael Finley to limit minutes at the guard spots. "Clearly we shortened our bench, but, when they're in there, they've done a great job. We were able to throw Shelden [Williams] in one game and he was terrific. We just harp on everyone about being ready. You never know with foul trouble or injuries. I tell Marquis [Daniels] and Nate [Robinson] everyday, there's going to be a point at some point in the playoffs that they're going to make contributions. They have to stay ready and our bench has that attitude."
Robinson played six minutes five fourth-quarter minutes in Game 3. He's appeared in only six playoff games so far, but failed to provide a spark when Rivers injected him to do such at times against Miami and Cleveland.
Allen ices his foot after each game and often receives treatment before every contest, but hasn't missed a game due to the ankle since the start of the season.