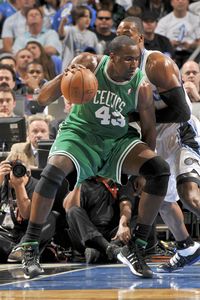 Fernando Medina/Getty Images
Kendrick Perkins earned an ejection in the first half, but it might have longer-range implications for Boston.ORLANDO -- Celtics center Kendrick Perkins earned his second technical foul with 36.1 seconds to play in the first half of Wednesday's Game 5, earning an automatic disqualification from the game.
Perkins registered a double technical with Marcin Gortat with 2:15 to play in the half after landing an elbow on the Magic's reserve big man. Less than 100 seconds later he was ejected after arguing a foul call, even as he attempted to walk away from the officials.
Perkins finished with two points and four rebounds over 16 minutes.
But his penalty might be more severe than just the second half of Wednesday's game. After entering the game with five postseason technical fouls, Perkins is at the limit of seven. If both Game 5 technicals stand upon league review, he will be suspended for one additional playoff game.
The NBA confirmed that none of Perkins' previous five technicals this postseason had been rescinded, but also noted that both of Wednesday's calls will be reviewed by the league office. Even if Perkins gets one removed, it might save him for Game 6, but he'd still be in the danger zone should Boston's postseason run continue.
Ironically, Celtics coach Doc Rivers emphasized before the game the danger Perkins was nearing, having been tagged with repeated double technicals this postseason.
Perkins, who didn't earn his first technical until Game 5 of a first-round triumph over the Miami Heat, has now been tagged as part of five double technicals, the majority coming in the conference semifinals when it often got heated between him and Shaquille O'Neal.
"I have talked to him," Rivers said before Wednesday's game. "The double technical is what's getting most guys in trouble. The flagrants, I can understand, if you had a ton of glaring flagrants, at some point, you should get suspended. Or if you have a ton of techs for arguing with the refs, just plain back-and-forth with the refs. But the double-technical thing has to be resolved. That's where two players, getting physical, and officials are just trying to clean the game up. The easier way is the double-technical, it calms the game down.
"If you look at Kendrick, four of them are [double-technicals]. Those are the ones we have to figure out a better way. I'm a typical guy -- I don't have a solution, but I can point out the problem."