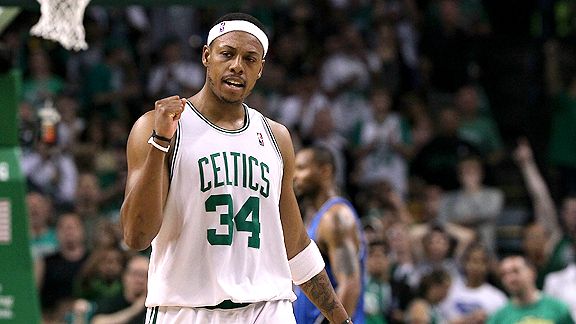 Jim Rogash/Getty Images
Paul Pierce propelled Boston back to the NBA Finals with 31 points in Game 6.BOSTON -- Instant reaction after the Boston Celtics posted a 96-84 triumph over the Orlando Magic in Game 6 of the Eastern Conference finals Friday evening at the TD Garden:
How the game was won: Paul Pierce poured in a game-high 31 points to go along with 13 rebounds, 5 assists, and 2 steals, while Nate Robinson chipped in 13 second-quarter points providing a spark the Celtics desperately needed off the bench in the first half. Dwight Howard registered 28 points and 12 rebounds to pace the Magic in defeat.
Turning point: With Rajon Rondo landing hard on a drive to the basket late in the first quarter, Nate Robinson played the first 8:46 of the second frame and poured in 13 points on 4-of-7 shooting as Boston's lead ballooned as high as 21 points, including a 48-27 advantage after Robinson's pull-up jumper midway through the quarter. Rondo spent much of the second quarter with an ice pack on his lower back, lying on the ground in front of the Boston bench, but returned and seemed without limitation in the second half.
Stat of the game: The Celtics connected on 10-of-22 trifectas (Orlando finished 6 for 22), giving the Magic a little taste of their own medicine while ending their season.
Unsung hero: Less than 48 hours after sustaining a concussion, Glen Davis logged six points and seven rebounds over 16 minutes, providing a nice lift off the bench in a game many thought he might not be able to play in.
What it means: The Celtics are back in the NBA Finals two years after capturing Banner 17. While awaiting an opponent, Boston will enjoy a five-day break before opening on the road against that Western Conference champion (the Phoenix Suns or Los Angeles Lakers) on Thursday. They'll need that entire time to combat the injuries that cropped up late in this series. Rasheed Wallace departed Friday's game in the fourth quarter when his balky back flared up on him again. Davis (concussion), Marquis Daniels (concussion), Tony Allen (ankle), and Rondo (back) also get a chance to heal up before the Finals.